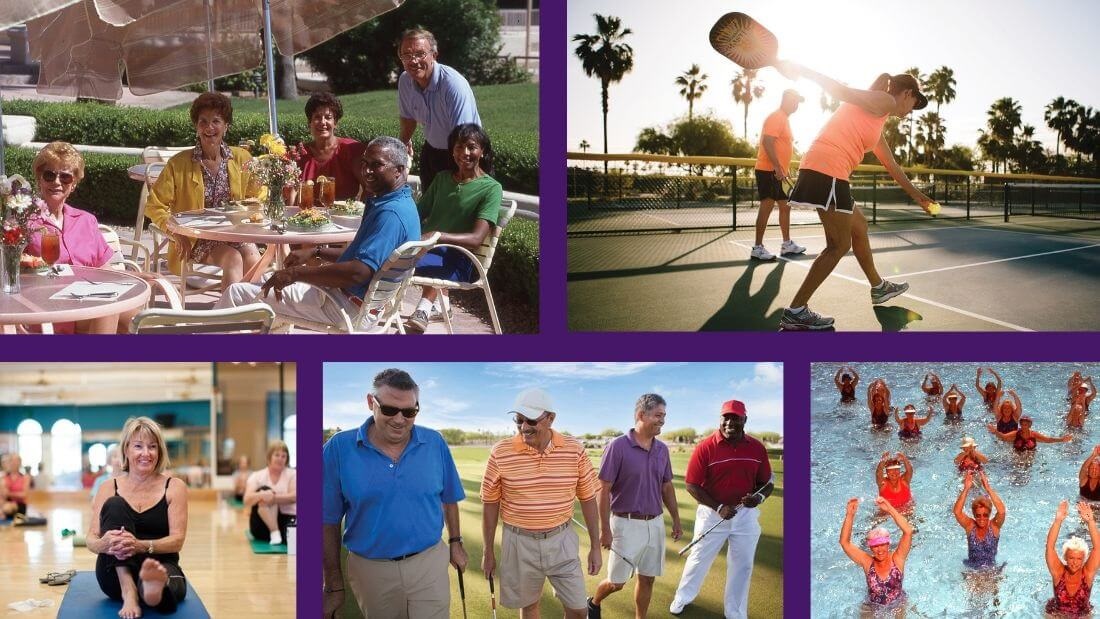 50 Years of Fun 55+ Living
September 29, 2022
Since 1972, homeowners in each Robson Resort Community have made the communities what they are today – welcoming, social, and fun! Residents have formed lasting friendships while creating a true sense of community. Take a look at the last 50 years of fun 55+ living at the Robson Resort Communities.
Sun Lakes
If you are an Arizona native or are new to the state, chances are you have heard of Sun Lakes, the flagship Robson Resort Community. What started out as farmland in 1972 is now a sold-out, master-planned retirement community comprised of approximately 10,000 homes. In addition to the innovative home designs, the easygoing retirement lifestyle at Sun Lakes quickly became a favorite for retirees. As the community grew, residents created many fun clubs, classes with varying interests, and community events. In addition, residents have enjoyed the myriad of amenities including five golf courses, five country clubs, tennis, fitness, Pickleball, and much more. Today, residents of Sun Lakes enjoy this and more including many annual community events established by the founding residents of this 55+ community.
SaddleBrooke & The Preserve at SaddleBrooke
With many active adults exploring southern Arizona as a retirement destination, the Robson Resort Communities opened SaddleBrooke in 1987. Located in the north Tucson area, SaddleBrooke is nestled in the base of the Santa Catalina Mountains and home to more than 10,000 residents. In 2004, The Preserve at SaddleBrooke, located in the northern section of SaddleBrooke, was unveiled. At The Preserve at SaddleBrooke/SaddleBrooke residents have created more than 200 clubs and groups with interests ranging from outdoor adventures to arts and crafts. Here, you can make new friends and enjoy your retirement years.
PebbleCreek
Since 1993, retirees have been creating a friendly and active community in the West Valley at PebbleCreek in Goodyear. This Metro Phoenix 55+ community is now home to more than 10,000 residents. From the moment you enter the community, you will notice how engaged the residents are in the retirement lifestyle. Since opening nearly 30 years ago, residents have kept active with the high-end amenities and fun activities. They are always out, golfing on the championship courses, playing Pickleball, participating in various clubs and groups, enjoying the community restaurants, and much more. You will be amazed by all the activities and fun 55+ living going on every day at PebbleCreek!
Quail Creek
By offering new home designs and developing luxury amenities, Quail Creek has become a top retirement community in Green Valley, Arizona. While the picturesque views of the Santa Rita Mountains capture your attention, the friendliness of the residents and bountiful activities are truly impressive. The Madera Clubhouse is full of entertainment, the Anza Athletic Club is full of sports and fitness, and the additional amenities offer the opportunity to pursue a variety of interests. In addition, future amenities including the Canyon Club will further enhance this resort living community. Quail Creek residents have over 100 clubs, classes, and organizations to keep active and engaged.
Robson Ranch Texas
Since 2001, active adults have found their ideal Texas retirement community at Robson Ranch Texas. Rivaling other 55+ communities in Texas, Robson Ranch is desirably located within the Dallas-Fort Worth metroplex in Denton. The prime location combined with upscale amenities and fun clubs and classes has made this a popular choice for retirement in Texas. Today, the nearly 5,000 residents have created a fun-loving community with abundant ways to socialize and keep active. Discover some of the clubs and activities at Robson Ranch Texas today!
Robson Ranch Arizona
In the southeast area of metro Phoenix, Robson Ranch Arizona is bustling with over 55 retirees. Do creative arts, golf, or card games pique your interest? Alternatively, maybe you have always wanted to try Pickleball or create gourd art. The clubs, classes, and groups at Robson Ranch AZ may be exactly what you have been dreaming of. The activities combined with the overall 55+ lifestyle create ideal Arizona retirement living.
SaddleBrooke Ranch
As the newest Robson Resort Community, SaddleBrooke Ranch is highly sought-after for near Tucson retirement living. The community's vibrant lifestyle including world-class amenities and fun activities has attracted more than 2,500 residents. From fitness and wellness activities and creative arts to gardening and community events, this 55+ community offers abundant ways to engage. Read the SaddleBrooke Ranch blog for recent news on fun clubs, outings, and more.
While each Robson Resort Community is uniquely different, each community offers fun 55+ living. Are you ready to experience the active adult lifestyle? Explore our Preferred Guest Program today and discover resort living at a Robson Resort Community. Learn more here or call 800-732-9949 to book your visit.