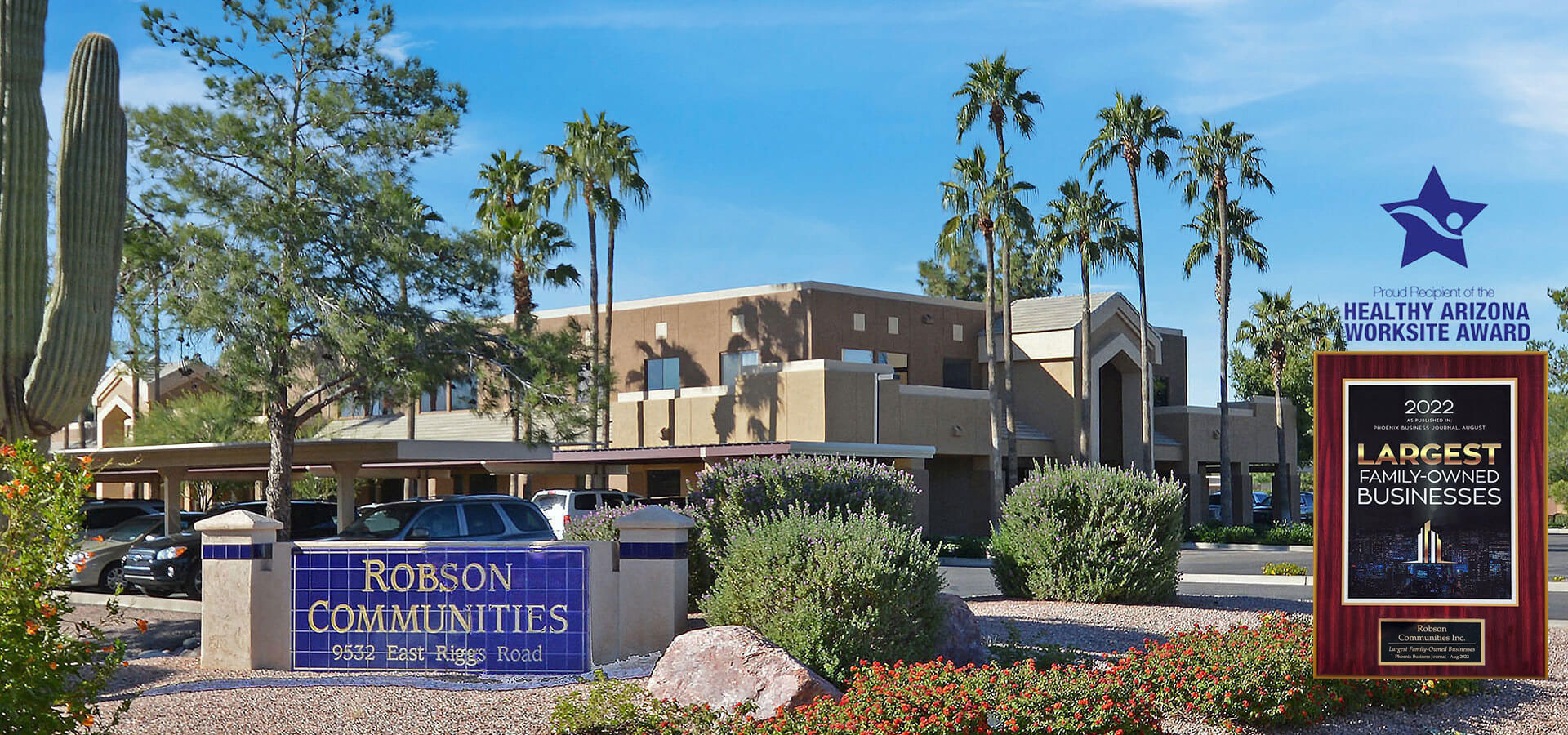 Careers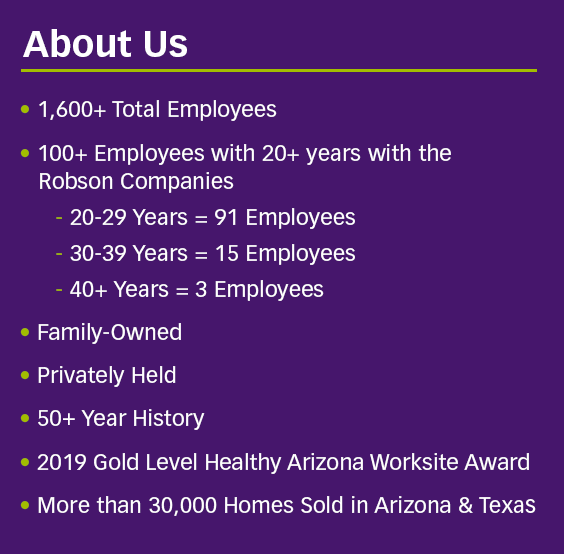 Employees of Robson Communities, Inc. and affiliated companies maintain a superior level of customer satisfaction. Providing the best customer service means hiring quality individuals. If you can provide customers with top notch service and you are a team player, consider employment with the Robson team.
Our companies are family owned businesses started by Ed Robson 50 years ago. Starting with just a handful of employees and 2,560 acres of land in the Southeast Phoenix valley, Robson Communities, Inc and affiliated companies (Robson companies) has grown to over 1,600 employees spanning throughout Arizona and in the Dallas / Fort Worth, Texas area. Our companies employ a variety of positions ranging from golf course maintenance technicians to accounting specialists to construction superintendents. Our Jobs Page shows current opportunities.
The Robson companies are one of the largest private employers in Arizona. Robson companies develop and market five major Arizona resort communities and one in Texas: PebbleCreek (metropolitan Phoenix), Robson Ranch (Eloy/Casa Grande area); SaddleBrooke and SaddleBrooke Ranch (Tucson); Quail Creek (Green Valley area); and Robson Ranch (Denton) north of the Dallas/Fort Worth Metroplex.
The operations of the Robson companies are highly integrated, from land acquisitions through design, construction and marketing of its residential products. Robson companies are the general contractors for most construction including land development, road and utility construction, golf courses, clubhouse and residential construction. Robson companies provide water and sewer through private utility companies serving many of its developments. The Robson companies also develop shopping centers and other commercial properties associated with the Robson developments.
Robson Communities, Inc and its affiliated companies are proud to be Equal Opportunity Employers and do not discriminate on the basis of age, sex, sexual orientation, race, religion, national origin, disability or any other protected category.
https://www.cigna.com/legal/compliance/machine-readable-files – This link leads to the machine readable files that are made available in response to the federal Transparency in Coverage Rule and includes negotiated service rates and out-of-network allowed amounts between health plans and healthcare providers. The machine-readable files are formatted to allow researchers, regulators, and application developers to more easily access and analyze data.