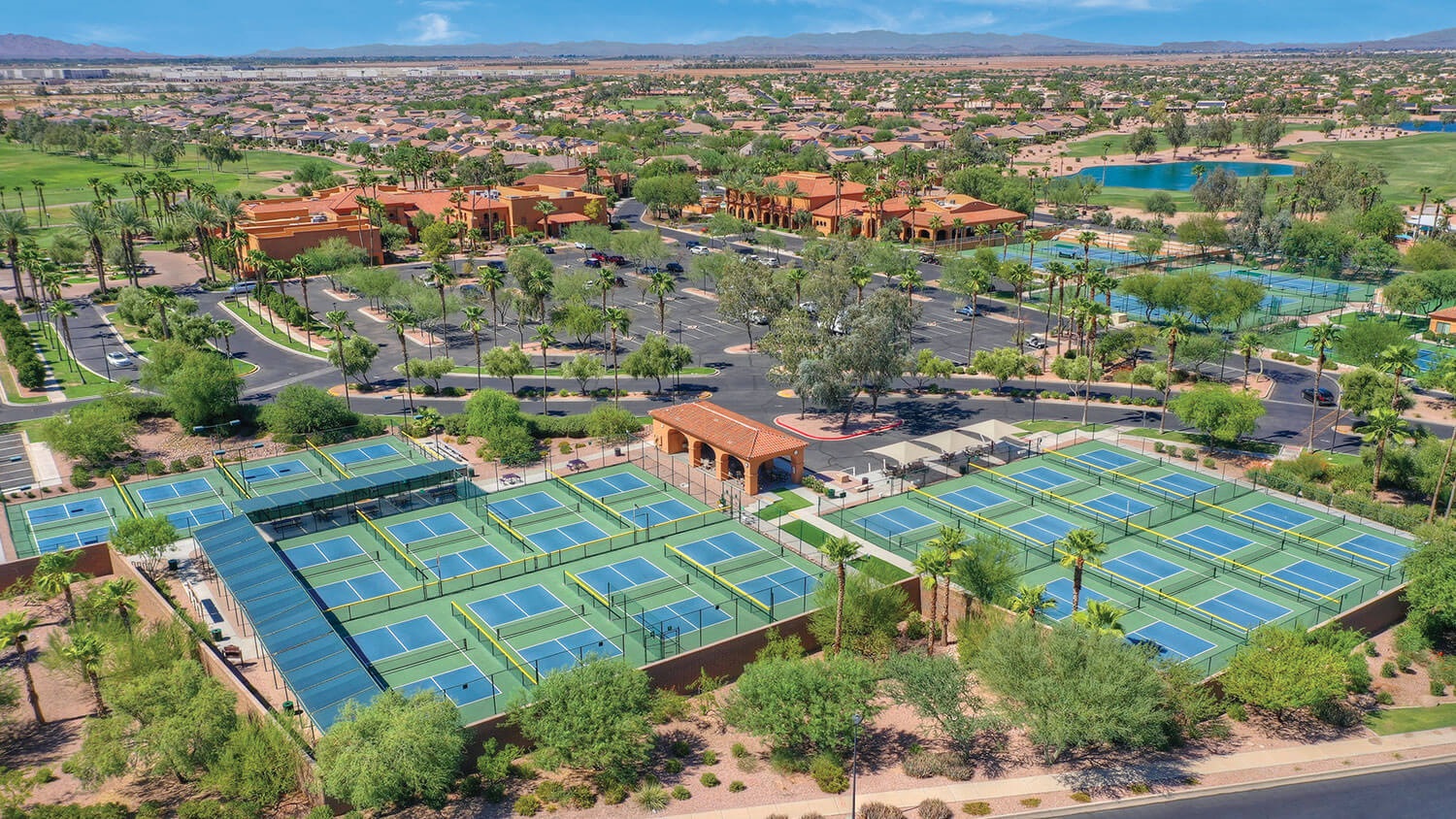 More Pickleball Coming to PebbleCreek in Goodyear
October 19, 2023
At PebbleCreek in Goodyear, Pickleball is in high demand! In fact, news has been swirling about more Pickleball coming to PebbleCreek. Currently, this Goodyear active adult community showcases a 20-court Pickleball Complex. The community has announced a proposed plan to add 16 additional courts. Upon completion, the proposed 16 new courts will bring the community total to 36 Pickleball courts. Whether you are a Pickleball expert, hoping to play more, or are eager to start playing, this Phoenix luxury retirement community is a Pickleball paradise.
Pickleball at PebbleCreek
Pickleball is incredibly popular in this Arizona retirement community for 55+ adults. Serving up fun times, the current 20 courts provide the neighborly competition and endless fun for more than 1,500 Pickleball enthusiasts. The proposed 16 new courts intend to meet the growing demand for this popular activity.
View the Proposed Concept Plan for the additional Pickleball courts.
Take a sneak peek at the progress of the construction of this exciting new amenity: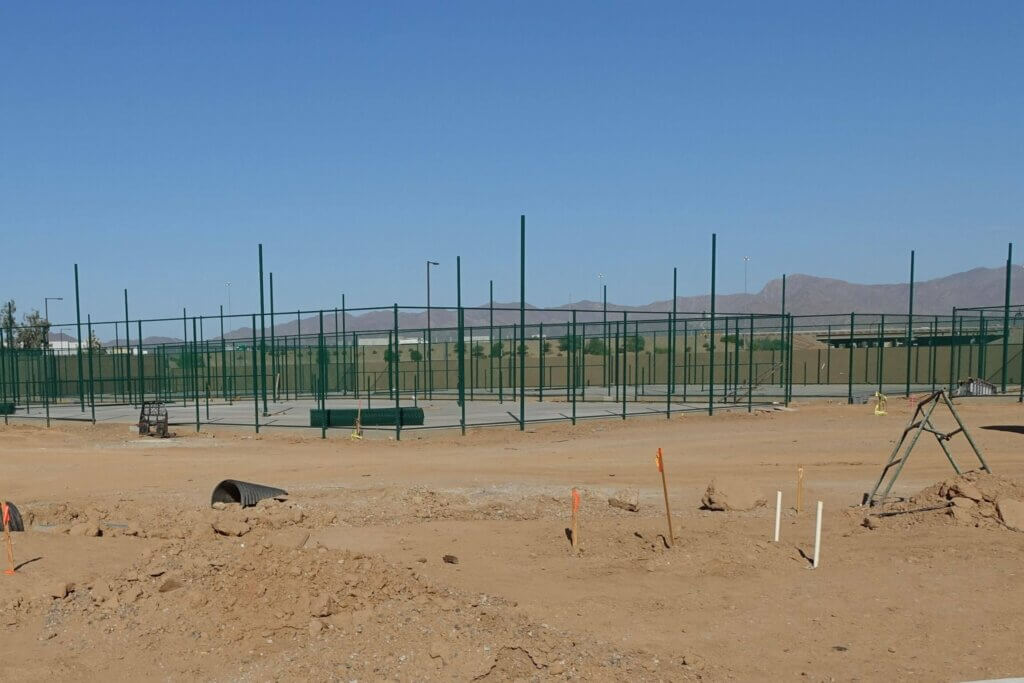 The PebbleCreek Pickleball Club
The PebbleCreek Pickleball Club provides residents of this 55+ community in Goodyear, Arizona with an opportunity to be part of a fun yet competitive group. The club promotes exercise and activity while aiding in the development of skills and enjoyment of Pickleball. Each week the PebbleCreek Pickleball Club offers a variety of programs such as:
Skills and Strategies Classes
Social Play
Open Play
Skill Level Drop-In
Ladder Play
Several PebbleCreek Pickleball Club members are USA Pickleball National Championship medalists. Read more about their success here. Watch some of the PebbleCreek Pickleball Club members in action.
How Pickelball Started
Pickleball started in the mid-1960s in Washington State as a way to fight off family boredom. Joel Pritchard and Bill Bell put their creativity together and utilized an old badminton court on Pritchard's property, ping-pong paddles, and a perforated plastic ball to create a new game. Initially, they volleyed the ball over the net at standard badminton height. As they continued playing, the pair discovered that the ball bounced well on asphalt, which gave them the idea to incorporate bouncing into the game. Eventually, with the help of one of Pritchards' neighbors, rules were established and the net lowered to 36 inches. By 1967, the first permanent Pickleball court was developed in the backyard of Pritchard's neighbor.

Within ten years of when Pickleball started, the first known Pickleball tournament was held. Tournament participants were mostly tennis players who knew little about the game and practiced with oversized wood paddles. By 1984, the United States Amateur Pickleball Association (U.S.A.P.A.) formed and the organization published the first rulebook.
In 2001, the Arizona Senior Olympics introduced Pickleball for the first time. By 2003, Pickleball was included in the Huntsman World Series Games. The USA Pickleball Association (USAPA) was established in 2005 and developed its first Board of Directors. Pickleball was included for the first time at the National Senior Games Association in 2008. In 2013, USAPA started the year with more than 4,000 members, in 2015 they surpassed 10,000 members, and in 2017 they had 22,000 members. By the end of 2021, USA Pickleball Membership had surpassed 53,000 members.
Why Pickleball is Popular
Pickleball is popular because it is a low-impact sport. It is easy to learn and can be played at a variety of skill levels, making it accessible to people of all abilities and ages from teens and 55+ to seniors. Additionally, the small court size and slower pace of the game make it a great option for older adults who may have mobility or balance issues. It is a fun, social activity that you can enjoy with friends and family or complete strangers. Whether for exercise or just for fun with friends, there is no doubt that Pickleball is a popular sport.
Here are 10 reasons why Pickleball is so popular!
1. Easy to Learn – With only a few simple rules, Pickleball is easy to learn. If you have played tennis or ping pong, learning how to play Pickleball shouldn't be too challenging.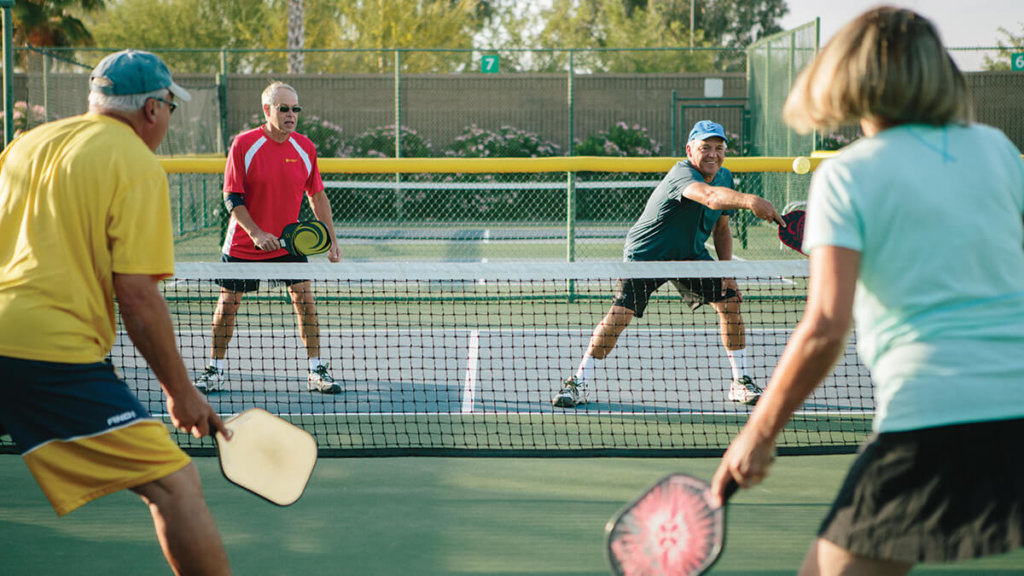 2. Fitness – Playing Pickleball is a great way to be active and burn calories without exerting yourself.
3. Social – Pickleball is a great activity that builds social connections. It offers a fun way to meet new friends in the community.
4. Agility – The fitness aspect of playing Pickleball lends itself to improving your agility, footwork, hand-eye coordination, balance, and more.
5. Fun – One of the main reasons Pickleball has grown in popularity is that it is a fun game. Whether playing leisurely or competitively, 55 and over adults find Pickleball to be a fun activity.
6. Affordable – Playing doesn't require much equipment, which makes this sport more affordable than some other sports.
7. Strategy – Whether you are a skilled player or new to the game, Pickleball will challenge you to improve your skills and think more strategically.
8. Places to Play – As this sport has grown in popularity, Pickleball courts have become more readily available. One of the many benefits of living at PebbleCreek in Goodyear is the convenience of having Pickleball courts right within the community.
9. Low-Impact – Given the smaller court size, playing can require less movement and tends to be gentler on the joints.
10. Wellness – Playing Pickleball outside in the sunlight can aid in overall wellness while improving your mood.
Where to Play Pickleball
In addition to playing Pickleball at PebbleCreek, the Goodyear and surrounding Metro Phoenix area offer additional places to play. Some options include:
The Goodyear Community Park (3151 N Litchfield Rd, Goodyear, AZ 85395)
Goodyear Recreation Campus (420 S. Estrella Parkway, Goodyear, AZ 85338
Phoenix area Pickleball courts are available on the City of Phoenix Parks and Recreation site here.
USA Pickleball is also a great resource to search for where to play Pickleball.
About PebbleCreek
The news of more Pickleball coming to PebbleCreek has residents very excited. The proposed additional courts add to the overall outstanding active adult lifestyle. Besides the ideal location close to everything in the Metro Phoenix area, PebbleCreek offers stunning new homes for sale, high-end amenities, fun activities, and much more.
Learn more about PebbleCreek in Goodyear today!
Updated October 19, 2023