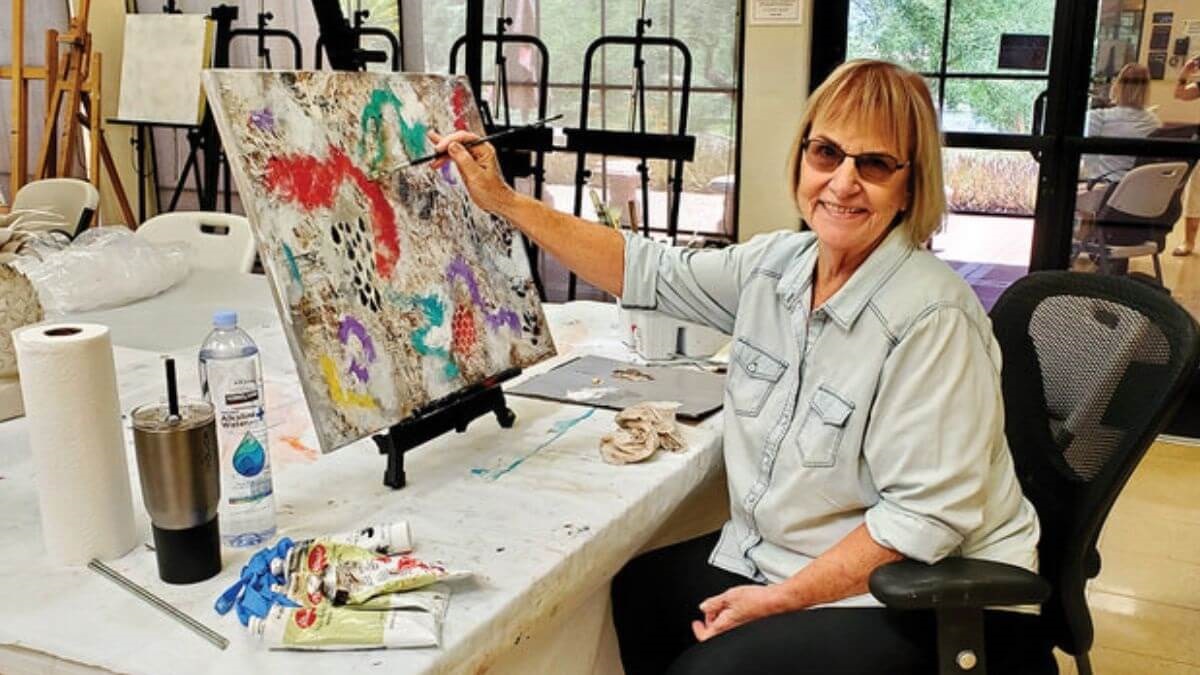 PebbleCreek Art Club
August 9, 2022
With the long, hot days of summer upon us, the PebbleCreek Art Club has an answer for how to spend those days. PebbleCreek residents are encouraged to join the Art Club at the Community Arts Center (CAC) in the Coyote Room for open studio days.
Tuesday, Thursday, and Friday: 9 a.m. to 3 p.m.
Wednesday: 1 p.m. to 3 p.m.
Saturday: 9 a.m. to noon
Bring any project you wish to work on and join with fellow Art Club members to work, visit, and be inspired. In addition, to open studio times, various special groups, such as fiber clay, watercolor, oils, abstract painters, and pastels meet once a month to share, critique and support others interested in those media. See the Classes and Events calendar at www.pcartclub.org for times and dates.
PebbleCreek Fall Art Show & Sale
The PebbleCreek Fall Art Show and Sale will be held in the Tuscany Falls Ballroom on Nov. 5, from 3 to 7 p.m. this year. Tickets will be available beginning on Oct. 10. Mark your calendars so that you don't miss out on this wonderful event! Enjoy live music, opportunities to buy one-of-a-kind art, and raffle opportunities for one of five gorgeous gift baskets. Last year's show was a sell-out and this year's promises to be another great event!
The PebbleCreek Art Club now has an online art gallery featuring works from members that are available for sale. Artists are displaying original works and giclee prints are available from some of the artists. View the gallery at www.pcartgallery.com.
The PebbleCreek Art Club would like to recognize our valued sponsors and donors whose generosity has helped make the PebbleCreek Fall Art Show and Sale possible.
Platinum
New Age Cabinetry and Coatings LLC—specializing in custom cabinetry and countertops, cabinet refacing and refinishing—3828 W. Whitton Ave., Phoenix, AZ 85019, 623-327-9654
Gold
Sophie M Shrum/GRI MRP Realtor, Realty One Group
Barb Maier, tax accountant
Desert Sage Landscaping, 16349 W. Monroe St., Goodyear, AZ 85338, 480-447-6791
Silver
Lupo Airport Services—Kevin and MaryKathryn Zuza
Osborne Jewelers
Haircutters in the Park, stylist Liz
Empower Nail Salon and Spa, Jeannie Dinh
Bronze
Jose R Gonzales, DDS PC
Julie Diebolt Price, photographer
Donors
Off the Hook butcher shop
Nothing Bundt Cakes
Written by: Susan Skolnik
About the PebbleCreek Art Club
The goal of the PebbleCreek Art Club (PCAC) is to generate and nurture an interest in Art within the retirement community, PebbleCreek. This Art Club is exclusively available for residents of PebbleCreek in Goodyear, AZ. Funds from club dues are used to enable the purchase of supplies, and to bring in special events that would further enhance our knowledge of techniques and skills. Many benefits are available for Art Club members as well. Learn more here.
At PebbleCreek, active adults enjoy a fulfilling retirement lifestyle with abundant clubs, classes, and activities. Discover the new homes for sale, high-end community amenities, fun activities, and more about the Phoenix Metro and Goodyear area here.