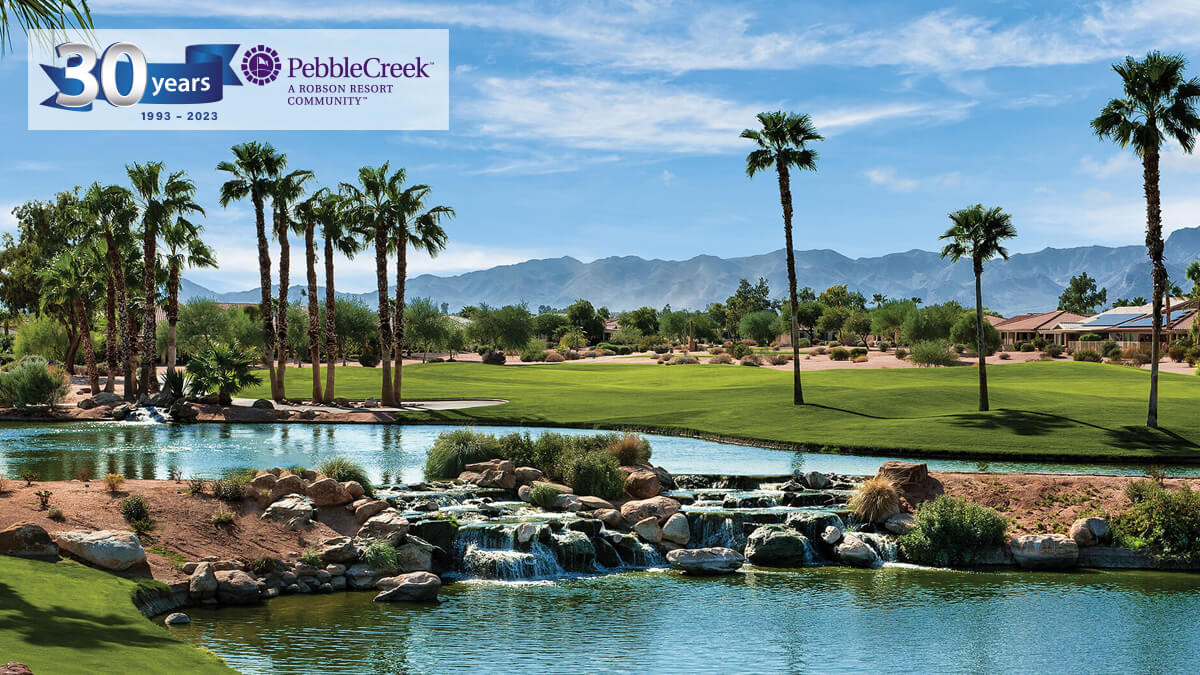 PebbleCreek Celebrates its 30th Anniversary: A Legacy of Excellence in Active Adult Living
July 26, 2023
Discover PebbleCreek, a prestigious 55+ luxury retirement community nestled in the heart of Goodyear. Offering a perfect blend of luxury living, a vibrant social scene, and an ideal location that is close to everything, this remarkable community is the ultimate retirement oasis. This year, PebbleCreek proudly celebrates its 30th anniversary, showcasing its grand entrance, breathtaking golf course vistas, and upscale amenities. It's not just a number – it represents three decades of hard work, dedication and commitment. Let's take a closer look at this remarkable community and the exciting plans that lie ahead.
A Legacy of Excellence
Established in 1993, PebbleCreek has evolved over the past three decades into a thriving community that 10,000 residents currently call home. Throughout its history, the community has strived to enhance the lifestyle of its residents, resulting in an unrivaled resort-style living experience. From its humble beginnings to its present-day grandeur, PebbleCreek has become synonymous with luxury and leisure.
Amenities and Activities
PebbleCreek offers residents an impressive range of amenities and recreational opportunities. The Eagle's Nest, which opened in 1994, set the stage for an extraordinary living experience. Since then, PebbleCreek has continued to expand its offerings, including the addition of the Tuscany Falls Golf Club, Toscana's Grill, and the Tuscany Falls Sports and Aquatics Complex.
In response to the growing interests of its residents, PebbleCreek established the LifeLong Learning program in 2005. This educational initiative provides a platform for residents to pursue knowledge and personal growth through a variety of classes and workshops. The Creative Arts Center, with its state-of-the-art facilities, further allows residents to explore their artistic talents and passions.
Sports enthusiasts can indulge in their passion with top-notch facilities. The Field of Dreams, a reality since 2000, has become a hotspot for softball. Additionally, the community offers a Pickleball Complex, which will soon be expanded with the addition of 16 new courts, bringing the total to an impressive 36.
See How Far PebbleCreek Has Come
Looking Forward to the Future
As PebbleCreek celebrates its 30th anniversary, there are exciting plans underway to enhance the already exceptional lifestyle for its residents. One notable project is the renovation of Toscana's Grill and Restaurant, promising a superb dining experience for all. Moreover, the addition of more Pickleball courts reflects the community's commitment to meeting the evolving recreational interests of its residents.
PebbleCreek has established itself as the epitome of luxury resort living for active adults aged 55 and above. With its rich history, world-class amenities, and a thriving social calendar, this community continues to set the standard for retirement living. Whether you're seeking tranquility, social connections, or exciting activities, PebbleCreek offers it all. Contact us to experience the active adult lifestyle of PebbleCreek for yourself, and embark on a life inspired by luxury, leisure, and community.