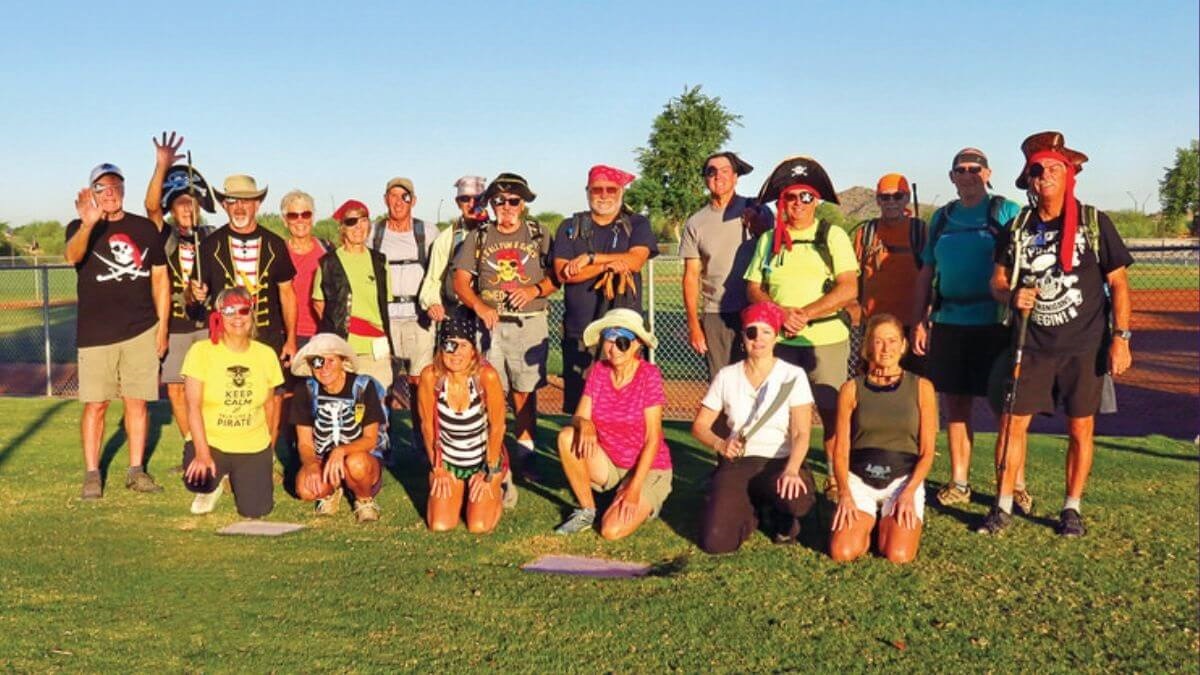 PebbleCreek Hiking Club Begins New Season
November 8, 2022
At PebbleCreek in Goodyear, the active lifestyle for 55+ adults includes a variety of fun clubs and activities for residents. The Hiking Club in particular is a popular club for active adults that like to venture out and experience the great outdoors. See what the PebbleCreek Hiking Club has been up to since the start of their 2022-2023 hiking season.
New Hiking Season for PebbleCreek Hiking Club
The first hike of the 2022-2023 PebbleCreek Hiking Club season had its members talking like pirates. The National Talk Like a Pirate Day is celebrated each September which coincidentally, was also the first hike of the 2022-23 hiking club season. Club hikers obviously enjoy hiking, but also enjoy socializing and having fun, so they scheduled an easy 5-mile hike, appropriate for all levels of hikers. After completing the hike in nearby Estrella Foothills (south of PebbleCreek), club members enjoyed an early social hour in Goodyear's adjacent Estrella Foothills Community Park and enjoyed talking like a pirate, telling silly pirate jokes, and consuming tasty snacks.
Written by: Lynn Warren
PebbleCreek Hiker Achieves Initial Milestone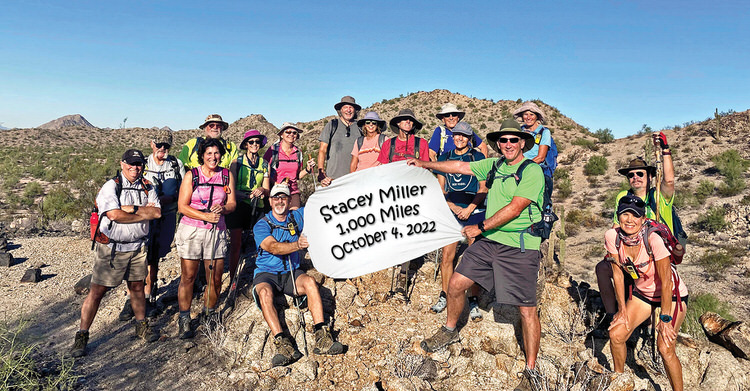 The hiking club's newest "rookie" of the year, Stacey Miller, was born in Washington State but spent most of his adult life in Wisconsin. After retiring from a successful career as an insurance agent, Stacey and wife, Laurie, followed their daughter to Arizona. For a short time, they lived in Ahwatukee where Stacy found a love of hiking on the trails of South Mountain. Recognizing the advantages of active adult living ultimately led the couple to PebbleCreek, where Stacey joined the hiking club. He has been a hiking club member for only one year. In that time has established his credentials as a strong hiker, winning Rookie of the Year for the 2021-22 season.
Recently, while hiking at nearby FINS (Fantasy Island Northern Singletrack), Stacey reached the important initial milestone of 1,000 miles. Stacey and his fellow 16 hikers, including some new club hikers, celebrated the occasion with orange juice, champagne, and cookies.
Join other active adults in the PebbleCreek Hiking Club and pursue your own milestones with a great group of people!
Written by: Kris Raczkiewicz
About the PebbleCreek Hiking Club
The hiking club offers residents the opportunity to enjoy hiking throughout different parts of Arizona. You'll find the club hiking the White Tank Mountains, Superstition Mountains, Estella Mountains, Chiricahaus, Sedona, and more. The club offers different skill levels so you may choose your level. The club's hiking season is from September to the first Friday in May, which several hikes planned each week. For more information on the Hiking Club and photos, visit their website here. pchikers.org
PebbleCreek is an active adult community for 55 plus residents, located in Goodyear. Start your new home search here to find your dream home and start living your ideal retirement lifestyle!