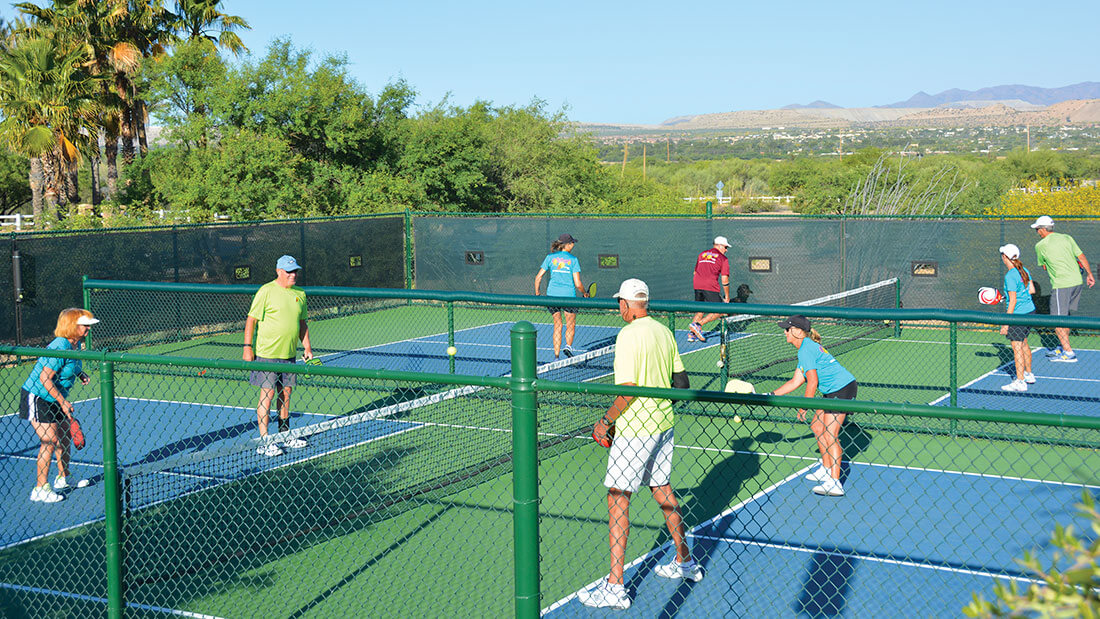 Quail Creek Announces Plans to Add 16 Additional Pickleball Courts
December 28, 2020
As the popularity of Pickleball continues to grow among active adults, Quail Creek has announced plans to add 16 additional Pickleball courts to the lineup of luxurious community amenities. Along with these new additional courts, a ramada and parking area are also planned. The new courts are projected to be located adjacent to the existing Pickleball complex. Upon completion, the proposed 16 new courts will bring the community total to 32 Pickleball courts. View the Proposed Concept Plan here.
Pickleball remains one of the fastest growing sports in America and is a desirable community amenity by the 55-plus crowd. This popular paddle sport includes many benefits such as:
Physical Fitness
– Although Pickleball is played on a smaller court than tennis and requires less movement, you will still get your heart pumping with a game. Due to the smaller court size, this is a great alternative to more vigorous physical activities.
Agility
– As a result of the physical fitness benefits of Pickleball, this also improves your agility and as you perfect your game, you may build your footwork, hand-eye coordination, balance and stamina.
Strategy
– Pickleball can engage your competitiveness and challenge you to improve your skills with additional training or encourage you to think more strategically while playing.
Social Connection
– As a one-on-one or two-on-two sport, Pickleball is a great activity that builds social connection and community engagement.
At Quail Creek, residents enjoy the convenience of onsite Pickleball facilities and participation in the Pickleball Club, which currently has more than 500 members. The Pickleball Club promotes good fellowship and sportsmanship during organized play and social events. Throughout the year, the club sponsors a variety of tournaments and hosts events such as the Play Day with members of the SaddleBrooke Ranch Pickleball Club. The club welcomes all skill levels to join in on the fun!
Quail Creek offers active adults a multitude of options to Live Life Inspired. From impressive new homes and fun community activities to luxury amenities and  27 holes of championship golf, Quail Creek is an ideal community for 55+ living.