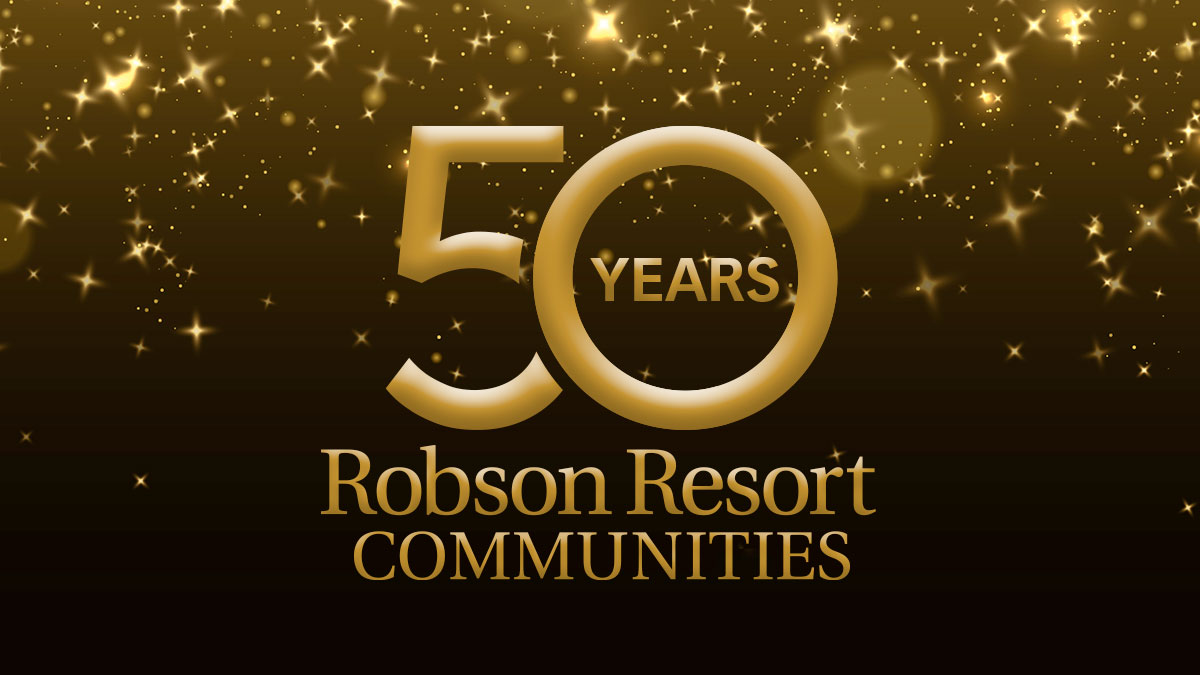 50 Fun Facts about the Robson Resort Communities
February 8, 2022
Fifty years in business tells quite a story! Since 1972, the Robson Resort Communities have been a popular choice for retirement living with beautiful locations in Arizona and Texas, world-class amenities, countless social activities, and stunning home designs. To celebrate our 50th anniversary, we have put together 50 fun facts about the Robson Resort Communities!
 50 Fun Facts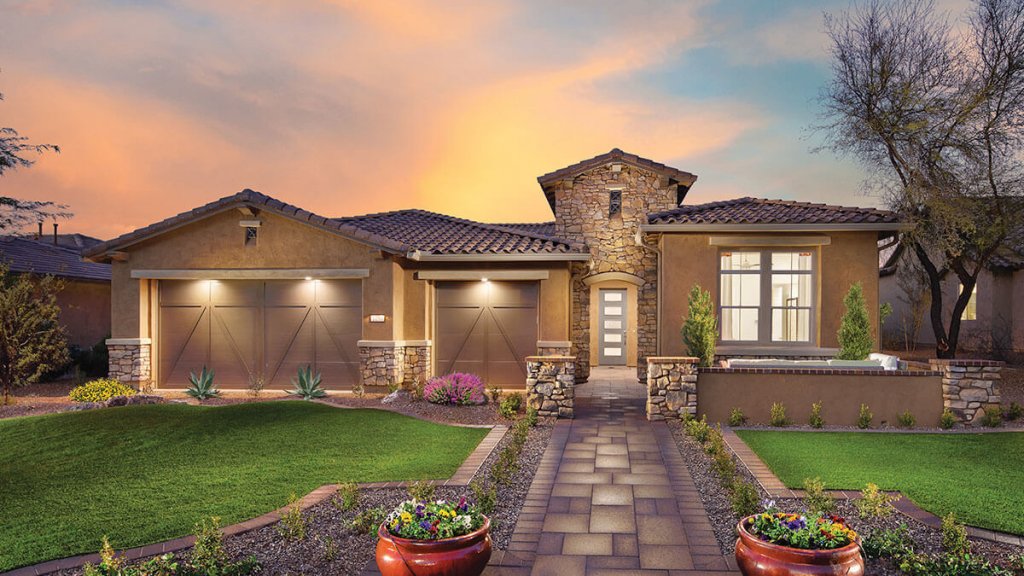 1. Sun Lakes originally sold lots and mobile homes.
2. The Robson Resort Communities are proud to be pet friendly and feature a dog park at each community.*
3. The inaugural Robson Resort Communities one-day festival event, DesertFest, kicked off at PebbleCreek in 2015.
4. More than 240,000 rounds of golf are played at a Robson Resort Community annually in a typical year.*
5. In 2013, Robson Ranch Arizona introduced the Villa Home Series for "Lock & Leave" 55+ living.
6. Today, the Robson Resort Communities have sold more than 30,000 homes.
7. Combined, the active adult communities in Arizona and Texas feature 98 Pickleball courts.*
8. In 1956, Founder, Ed Robson, was selected to become a member of the US Olympic hockey team.
9. PebbleCreek has a Classic Car Club for car enthusiasts.
10. Quail Creek is near one of the world's largest growers and processors of pecans, the Green Valley Pecan Company.
11. The Robson Rollers are a fun group of Robson Ranch Texas residents that enjoy mixed league bowling at a local Denton bowling alley.
12. In 2017, Robson Ranch Arizona welcomed its 1,000th homebuyers.
13. SaddleBrooke Ranch has a working brewery, Ranch House Brewery.
14. Founder, Ed Robson, began his real estate career in the 1960s with Caldwell Banker.
15. Each new luxury home at a current Robson Resort Community is 100% ENERGY STAR Certified.
16. Robson Ranch Arizona hosted the USAPA Pickleball Nationals VII Tournament in 2015.
17. There are 34 courts – 24 Pickleball courts, 6 tennis, and 4 bocce – available at SaddleBrooke Ranch.
18. The Renaissance Theater at PebbleCreek in Goodyear, seats 332 for a variety of performing arts.
19. SaddleBrooke Ranch hosts an annual ArtWalk event to introduce homeowners to talented community artists.
20. The Quail Creek Golf Club features three 9-hole championship courses.
21. The Wood Shop at Robson Ranch Arizona includes tools and equipment for many types of woodworking projects.
22. SaddleBrooke Ranch features a 110 box Community Garden.
23. More than 100 long-tenured team members have been with the Robson Companies for 20+ years.
24. 54 holes of golf are available at PebbleCreek.
25. In the 1950s, Founder, Ed Robson, played hockey for the Colorado College Tigers. In 2021, the Ed Robson Arena, named in his honor, opened at Colorado College.
26. The Preserve at SaddleBrooke offers the largest new home design of the Robson Resort Communities in Arizona.
27. Renowned as one of Tucson's great dining experiences, The Preserve Restaurant offers stunning views of the Santa Catalina Mountains and an impressive dining menu.
28. Quail Creek was acquired in 1999.
29. In 2001, Robson Ranch Texas opened and became the first Texas retirement community for the Robson Resort Communities.
30. Several Robson Resort Communities have a dedicated community newspaper with club updates, community activities, and much more. Learn more here.
31. The Quail Creek Performing Arts Guild presents variety, musical, drama, and comedic productions for residents and guests throughout the year in the Crystal Ballroom at the Madera Clubhouse.
32. Each Robson Resort Community features a community restaurant for residents and guests to enjoy. Learn more about the 55+ lifestyle here.
33. In 1972, Sun Lakes sold 44 lots. In 1973, the retirement community sold 522 lots.
34. Robson Ranch Arizona is near Picacho Peak State Park, a popular hiking destination known for its spring display of wildflowers and historical significance.
35. Founder, Ed Robson has been inducted into his high school Hall of Fame in Arlington, Massachusetts as well as the Colorado College's Athletic Hall of Fame.
36. The Robson Resort Communities annual Chef Gala began in 2004. This event fosters friendly competition among the Chefs from each Robson Resort Community and brings the homeowners together for an evening of fun!
37. The SaddleBrooke Senior Softball Association entered its 17th season with nearly 200 members.
38. A unique club at Quail Creek is the Air Gun Club whose members enjoy target shooting.
39. Each year, the annual Robson Challenge Tournament, offers a team competition between the Ladies Golf Associations from participating Arizona Robson Resort Communities.
40. One of the many fun clubs at Robson Ranch Texas is the Motorcycle Club, which gathers throughout the month to enjoy a ride together.
41. SaddleBrooke hosts an annual Golf Cart and Lights Parade to show off the creative talents of homeowners and see the beautifully decorated homes.
42. Robson Ranch Arizona has an active Cornhole League with weekly play.
43. The nature trail at SaddleBrooke Ranch is approximately 2 miles long.

44. Quail Creek hosts an annual Fall Festival Arts & Crafts Fair that showcases unique handmade treasures made by the residents.
45. The Pickleball Complex at Quail Creek includes 16 courts, ramada, and restrooms.
46. The Robson Ranch Arizona Hiking Club began in 2009 and remains a popular club for active adults within the community.
47. Quail Creek is located in Green Valley, near Madera Canyon, which is a wonderland for bird watchers.
48. Pickleball at Robson Ranch Arizona includes 16 courts as well as the popular Robson Ranch Pickleball Club.
49. Since 1997, the volunteer community organization, SaddleBrooke Community Outreach, has been helping people in the Copper Corridor of south-central Arizona.
50. The Expressions Gallery, located in the Creative Arts Center at PebbleCreek, provides a consignment outlet for resident artisans to display and sell their creations.
To learn more about the Robson Resort Communities and how we are celebrating our 50th Anniversary, click here. If you are ready to discover active adult communities in Arizona and Texas, call 800-732-9949 today to learn more.
* Excludes sold-out active adult communities.