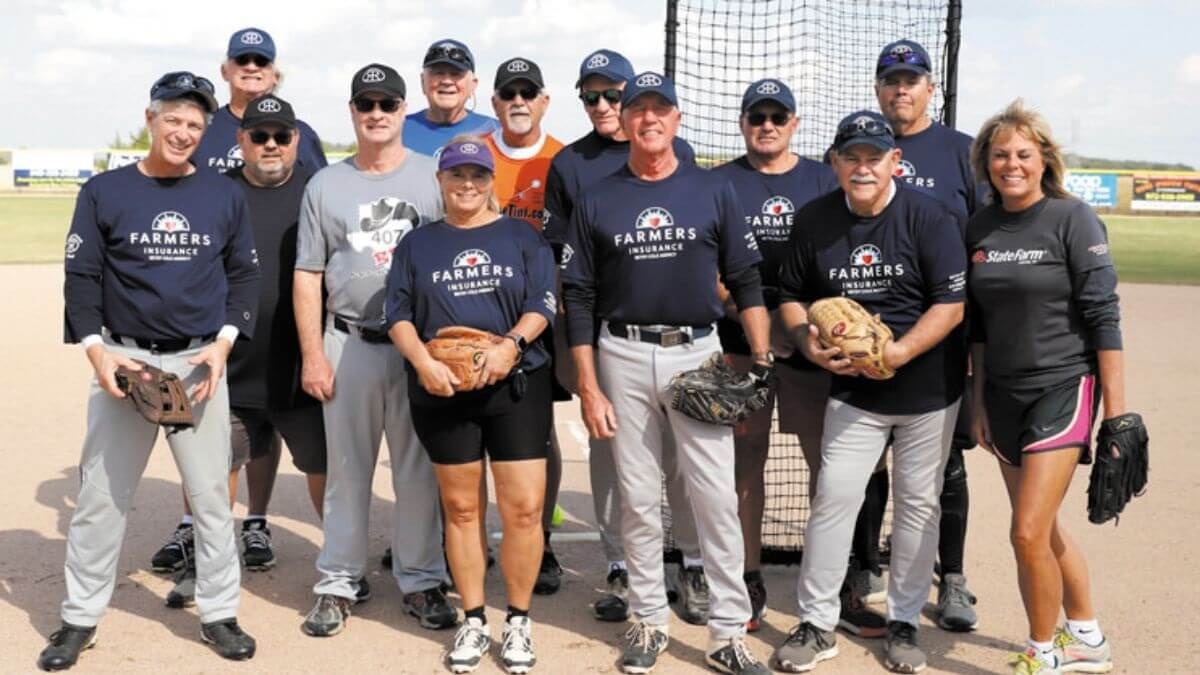 Another Robson Ranch TX Softball Season in the Books
January 10, 2023
Much-needed North Texas rain forced a postponement of the Robson Ranch Softball Fall Championships. The "calm after the storm" made for a perfect afternoon of softball. Spectators crowded both sides of the field, not only to cheer for their favorite player and/or team but also to enjoy the grand finale that the Robson Ranch Softball Association Board works hard to prepare for each season.
Robson Ranch TX Softball Fall Championship
Congratulations to both Farmers Insurance (Manager Sean Curry, 2023 president-elect) and Rodney's Landscaping (Manager Jerry Hinson, RRSA Board at-large) for entertaining all of us "fans" with sensational throws, catches, hits, and, above all, a demonstration of sportsmanship. In the final inning, it was Farmers Insurance who captured 2022, winning both the spring and fall softball seasons.
For Rosemary "Killer" Myers-Neagli, this was her second year living at Robson Ranch TX, and participating in Robson Ranch Softball. It is not just a physical and social endeavor—it has turned out to be one of the more colorful and entertaining groups out of the several groups that Rosemary and her spouse Tom enjoy within the community. As the year progressed, players started acquiring unique nicknames, such as Crazy Legs, Scooter, Wheels, JB, Stan the Man, Mouth of the South (who is both a player and an announcer), The Franchise, and even a Gazelle. A dedicated crew of announcers entertained everyone with their own trivia, music, and jokes; volunteers who manned the scoreboard and kept the scorebook; the army of players/volunteers who help care for our "Field of Dreams" and those precious sponsor banners that line the outer fence.
Robson Ranch Softball Game Reporters
Another aspect of Robson Ranch TX Softball is the dedicated group of "game reporters." Being a contributor to this group (many writers also play on a team), they each have their own unique flair to make a game come alive on paper. Every member of the Robson Ranch Softball Association receives game reports, feedback, and raving reviews. One reporter this year included a fictitious sexy French woman named Lulu who gave her unadulterated opinion, even though she clearly didn't understand the game—hilarious!
Most importantly, Robson Ranch TX Softball players would like to thank the esteemed Robson Ranch Softball Association Board, managers from all the leagues (including traveling teams), and all the players and volunteers who make Robson Ranch Softball more than just a game.
Written by: Rosemary "Killer" Myers-Neagli
About Robson Ranch Texas in Denton
Robson Ranch Texas is located in Denton and is within the Dallas, Fort Worth Metroplex. This Texas retirement community for 55+ active adults offers many fun clubs, activities, and events. Discover the active lifestyle at Robson Ranch TX, new build homes for sale, and much more today!
Call 888.988.3927 to request more information or to schedule a Guest Stay at Robson Ranch Texas.