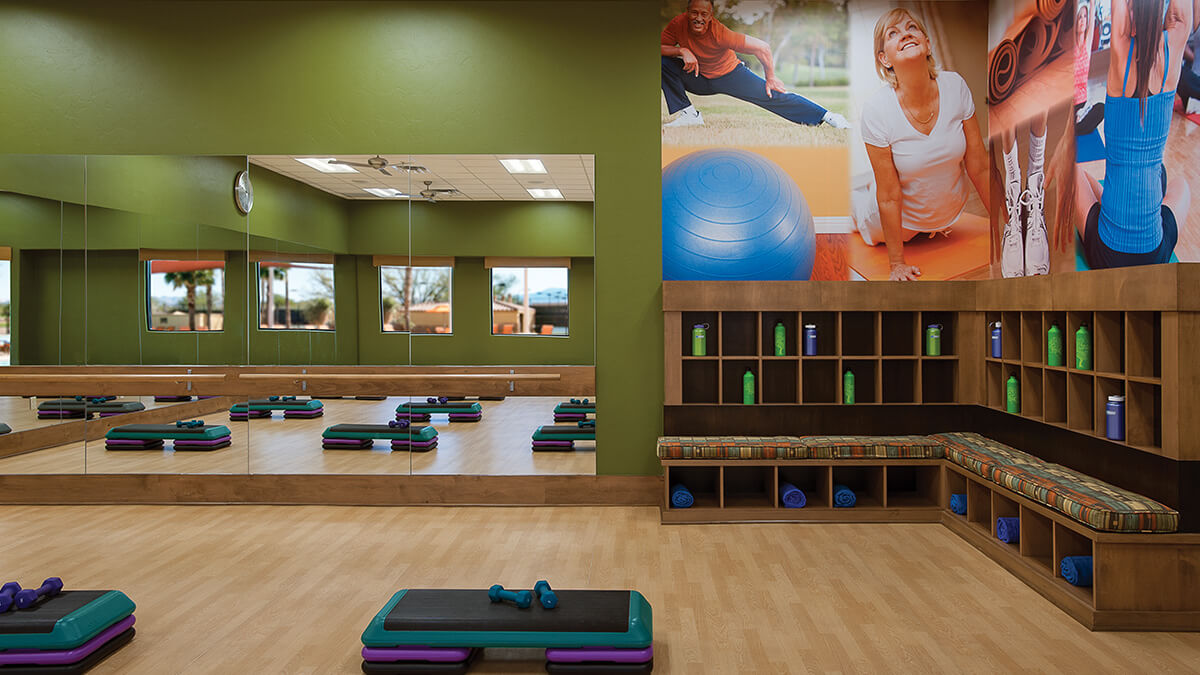 Resident Fitness Classes at Quail Creek in Green Valley
January 10, 2023
Active adult living for 55 plus at Quail Creek in Green Valley includes a variety of athletic classes. The Anza Athletic Club at Quail Creek offers many different types of fitness classes to keep residents active and enjoying retirement. Learn more about some of the resident fitness classes at Quail Creek below. View additional classes and descriptions here.
Class Descriptions
Body Blast
Work all muscle groups using high-volume reps and low resistance with dumbbell weights—a great workout geared to improving muscle tone, definition, and cardiovascular fitness.
Chair Yoga
A low-intensity exercise in which yoga postures are performed while sitting on a chair. It is great for any yogi looking for a gentle session and is ideal for senior yogis or those with physical limitations.
Fit & Strong
This class is ideal for beginners and those who are just beginning to think about getting in shape. Increase strength, agility, balance, coordination, and range of motion.
Full Body Barre
A versatile class to strengthen and tone your body. Using a chair as the barre, the focus is on small movements that make a big impact on your body. Light weights are optional to add additional challenges.
Gentle Yoga
Experience a slower pace of Hatha yoga practice. Not intense or strenuous on the body. The session is followed by a guided musical journey into deep relaxation.
HIIT FIT
High-Intensity Interval Training: 35- to 45-minute class focusing on a full range of activities that will tone and provide a great cardio workout.
Karate—Level 1 and 2
Level 2 is for those who have advanced from Level 1 and will continue to practice a higher level in this progressive class.
SilverSneakers Classic
Move to the music through a variety of exercises designed to increase muscular strength, range of movement, and activity for daily living skills. Use hand weights, elastic tubing, and a stability ball for resistance.
Zumba
Zumba is a fun interval dance workout with fun, high-energy Latin and contemporary rhythms to tone, enhance, and increase muscle endurance.
For more information on each class including requirements and class limits, please contact the Anza Athletic Club directly.
About Quail Creek
Active adult living at Quail Creek in Green Valley offers outstanding retirement living for 55+. Discover more about Quail Creek below.
Quail Creek Homes for Sale
High-end Amenities
Activities, Clubs & Classes
Championship Golf
Contact Quail Creek in the greater Tucson, Arizona area today for more information. Contact us now!