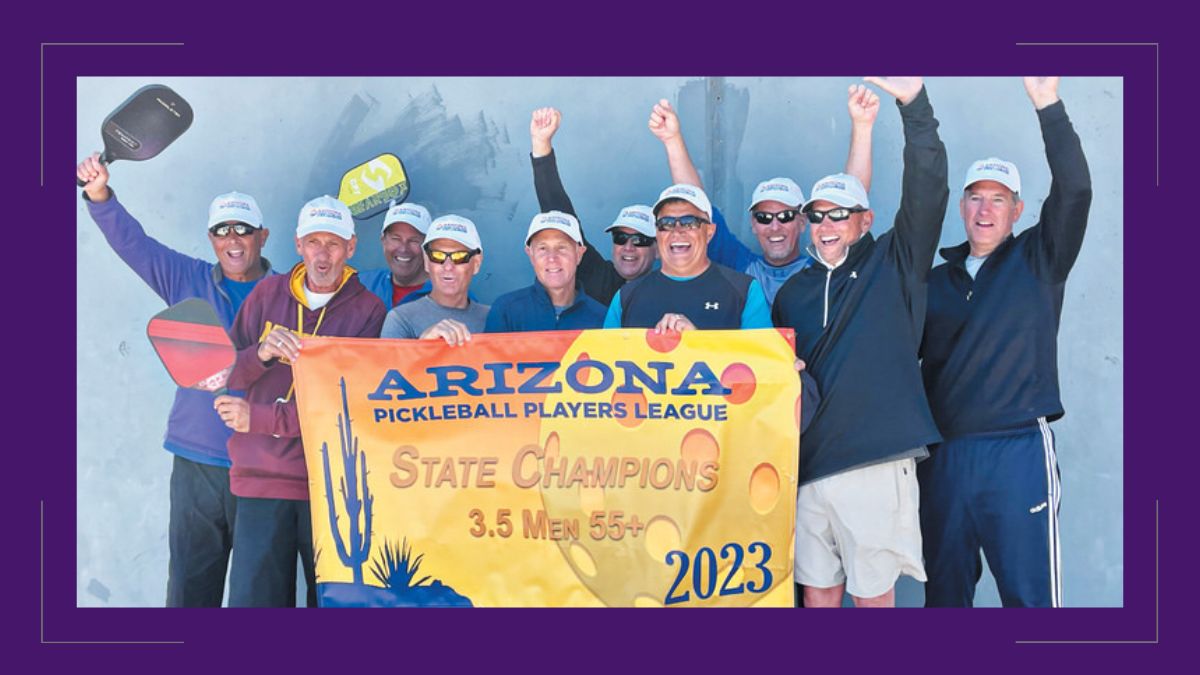 Celebrating the Victorious SaddleBrooke Ranch Young Guns
May 15, 2023
We proudly congratulate the SaddleBrooke Ranch Young Guns 3.5, who have emerged as the formidable champions of the 55+ Men's Arizona Pickleball Players League (APPL) State Championship! In a breathtaking showdown, the Young Guns triumphed over Las Palmas Grande with an impressive score of 30-12, etching their names in history as the first all-SaddleBrooke Ranch resident players to claim this prestigious title.
Undeterred by challenging weather conditions, including gusty winds ranging from 12 to 19 mph at Casa Grande on the fateful playoff day, the Young Guns displayed their unwavering spirit and tenacity. Their remarkable performance was witnessed by an enthusiastic SaddleBrooke Ranch crowd, whose cheers undoubtedly fueled their triumph.
An Unbeaten Season
This remarkable achievement marks the pinnacle of an unbeaten season for the Young Guns. With an awe-inspiring record of 126 wins and a mere 18 losses, they also cemented their position as Arizona's southern region champions, establishing themselves as the indisputable powerhouse of pickleball in the state.
Pickleball at SaddleBrooke Ranch
Pickleball at SaddleBrooke Ranch stands as a testament to the vibrant sports community within this 55+ neighborhood. There are 24 Pickleball courts at SaddleBrooke Ranch, creating plenty of opportunities for residents to engage in this fun sport. The game not only offers exceptional exercise but also is an avenue for forming lasting friendships. Whether you're a seasoned player or new to the game, all SaddleBrooke Ranch residents are  invited to utilize the Pickleball facilities. Coaching sessions for beginners are also available.
Join the ranks of the victorious Young Guns and experience the thrill of Pickleball at its finest. Embrace the camaraderie, fitness, and joy that this beloved sport brings. Become part of the legacy and make your mark on the courts of SaddleBrooke Ranch.
Congratulations once again to the SaddleBrooke Ranch Young Guns 3.5 on their outstanding achievement!
About SaddleBrooke Ranch
SaddleBrooke Ranch is a 55+ retirement community located just north of Tucson in Oracle, Arizona. Whether your interests include Pickleball, golf or fine arts or something else entirely, SaddleBrooke Ranch is full of fun activities, clubs, events, and much more. Discover the active adult lifestyle, new homes, and more at SaddleBrooke Ranch today!