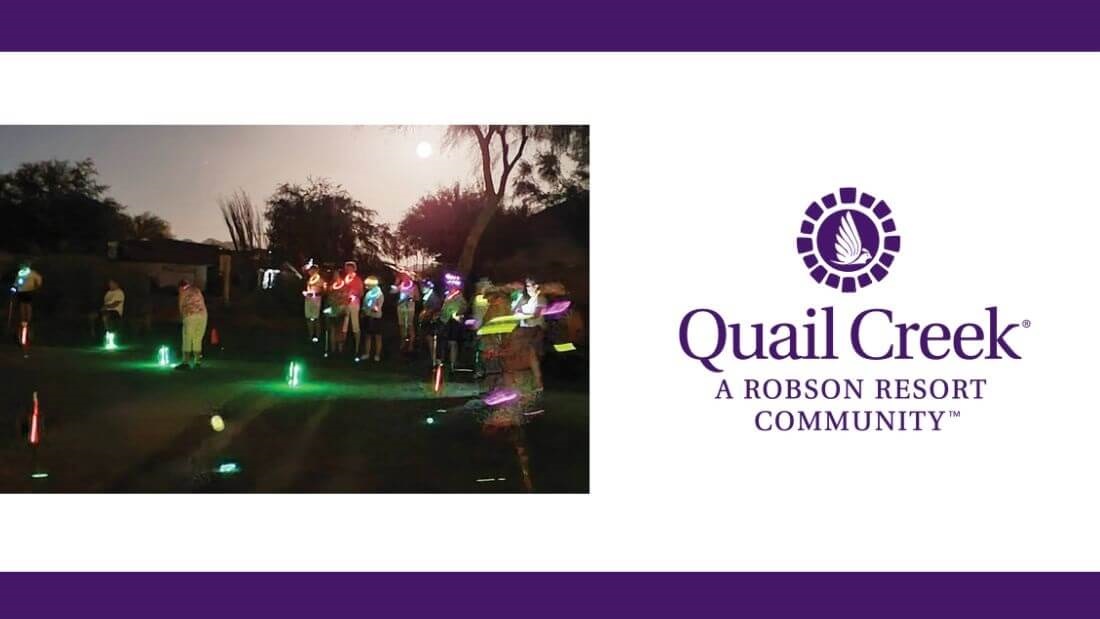 Quail Creek Putting Green Glowed for Moonlight Madness
June 22, 2022
The evening after the lunar eclipse, the Quail Creek Lady Putters gathered for their annual Moonlight Madness experience. Glow-in-the-dark markers illuminated the putting green and each hole. Putter also donned neon bracelets and necklaces. They could use their flashlights to walk from the clubhouse patio to the putting green, and then it was lights out, except for while they were entering their strokes on the scorecards.
Quail Creek Moonlight Madness Results
Despite the challenges of extremely low visibility, many of the ladies did very well. The first-place team, with a score of 202, won $100, and divided equally between Shari Cerrone, Dee Stearman, Char Brehm, Patty Hall, and Linda Kelly.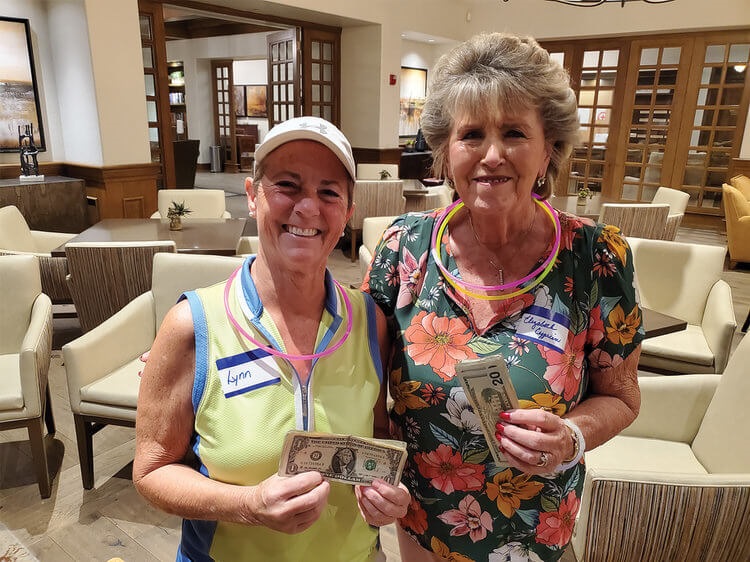 Elizabeth Cyprien, Dianne Campbell, Kim France, and Jill Wibbenhorst made up the second-place team with a score of 215. Team winnings were $50. Right behind them was the third-place team with a score of 216. Janet Wegner, Hilary Porter, Lynn Gureck, and Susan Koppy shared $25. The second- and third-place teams each had a "blind" putter to ensure all teams had the same number of players.
Elizabeth Meadows and Dee Stearman both putted four holes-in-one, the best of the evening. Because of the tiebreaking rule, the $20 prize went to Elizabeth, while Dee went home $10 richer. The tiebreaker rule was also in effect for the Lowest Overall Low Score. Both Cathy Thiele and Carol Dixon scored 37. The score on hole 16 was used to determine the winner. Cathy received $20, and Carol received $10.
Whenever the Quail Creek Lady Putters host a special event, there is usually a Split-the-Pot raffle to support a local charity. The chosen charity for this year's Moonlight Madness was the Animal League of Green Valley.
Written by: Peggy McGee
About the Quail Creek Lady Putters
The Quail Creek Lady Putters are a social group designed for the benefit of non-organized golfers. The group's purpose is to have fun and socialize while enjoying the outdoors and the outstanding Quail Creek Golf Club.
Learn more about the fun clubs and activities at this Arizona retirement community here or call 888-648-0332 today to request more information about Quail Creek.