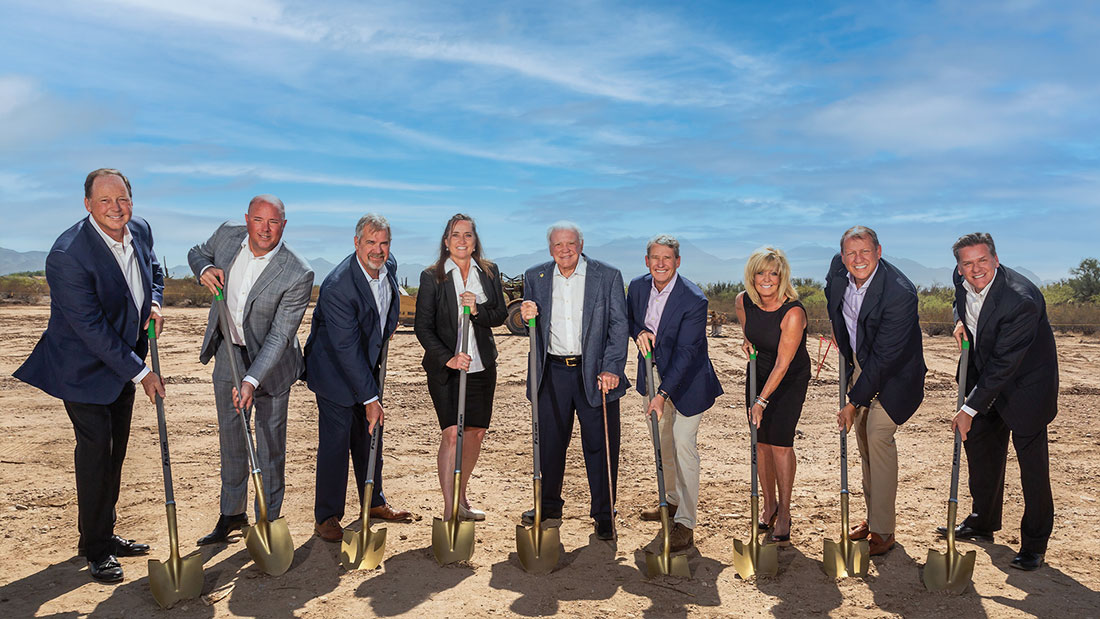 Quail Creeks Holds Groundbreaking Event for the Canyon Club
October 14, 2020
Quail Creek Debuts Plans for New Aquatics, Fitness, and Community Center
Edward Robson, Chairman and Founder of Robson Communities, Inc. along with his son, Mark Robson, President of Robson Communities, Inc., and several members of the executive team, celebrated the initial beginning of the Canyon Club with a groundbreaking event for Quail Creek's newest luxurious amenity on September 29th.
The multi-million dollar facility will be home to many activities at this luxurious 55+ community. The Canyon Club is planned to showcase an indoor pool, state-of-the-art fitness center, game room, bistro with coffee/wine bar, multi-purpose room (e.g. social, ping pong, etc.), spa lounge, massage and locker rooms, and a barbershop. The vast outdoor space is planned to include a resort-style pool with shade sails, a whirlpool, an event lawn, and a terrace with a BBQ and pizza oven.
Designed by two award-winning companies – SHJ Studio, Architect and KTI, Kimberly Timmons Interiors, and directed by Karri Kelly, Sr. Vice President of Residential & Commercial Design of Robson Communities, Inc., the Canyon Club's estimated 36,000 square feet will embody the spirit of the Southern Arizona ranch lifestyle offered at Quail Creek through its architectural character and composition upon completion.
"It has always been our mission to design extraordinary communities with luxury resort-style amenities.  We are excited to bring a heightened level of leisure and recreation to Quail Creek," said Karri Kelly, Sr. Vice President of Residential & Commercial Design of Robson Communities, Inc. "The Canyon Club will be a stunning and inviting place for residents to socialize, exercise, dine, relax, and enjoy."
Kelly said the design of Quail Creek's newest amenity will take advantage of the beautiful setting with a desert wash to the west and majestic mountain views to the south.  The design aesthetic will lend itself to a "Modern Ranch" by incorporating traditional gable and metal shed roofs, wood siding, natural stone, and smooth stucco.  By intentionally rendering these finishes with a more contemporary style, the club will provide a relaxed and comfortable feel.
Interior design will keep the Canyon Club at Quail Creek feeling approachable and visually appealing.   The Arizona landscape is the inspiration for the design palette within, while the use of large expanses of glass and movable walls will allow the surrounding, natural environment to permeate.  The desert-inspired aesthetic will continue with a palette influenced by the native landscape. Warm earth tones will be complemented by sage blue and shades of sienna, while natural materials will be mixed throughout.  Leather, copper metals, and natural woods will cultivate an ambiance that is both welcoming and fitting of the "Modern Ranch" form.
Time spent at Canyon Club will leave guests feeling rested, rejuvenated, and reconnected with the Southern Arizona backdrop.
Quail Creek is an active adult community located 25 miles south of Tucson at 1090 N. Eagle Hollow Rd in Green Valley, Arizona.
About Robson Resort Communities
For five decades, Robson Resort Communities, master-planned resort-style developments in Arizona and Texas, have been redefining luxury 55+ living with innovative and award-winning home designs and exceptional resort-style amenities, including championship golf courses, pro shops, restaurants, fitness centers, tennis, Pickleball, resort-style pools, creative arts, classes, social clubs, and countless activities for the ultimate active adult lifestyle.  Today, more than 50,000 people call a Robson Resort Community home.  Robson Resort Communities has received numerous awards including recognition as a national leader in housing; the National Association of Homebuilders bestowed its coveted "55+ Builder of the Year" award to Robson Resort Communities in 2020.
About KTI, Kimberly Timmons Interiors
KTI has pushed the boundaries of design for over 23 years with over 100 local and national awards.  This multi-discipline firm is fostered on a foundation of environmental psychology, timeless design principles, and modern sophistication, creating beautiful spaces for the resort/hospitality, restaurant, clubhouse, high-end residential, and home building industries.
SHJ Studio, Architect
SHJ Studio is dedicated to achieving design excellence and providing exceptional client service.  Every project receives direct principal involvement from conception to completion.  SHJ Studio creates award-winning architecture uniquely suited to its environment that meets and exceeds clients' expectations.
See the latest progress on the Canyon Club here.