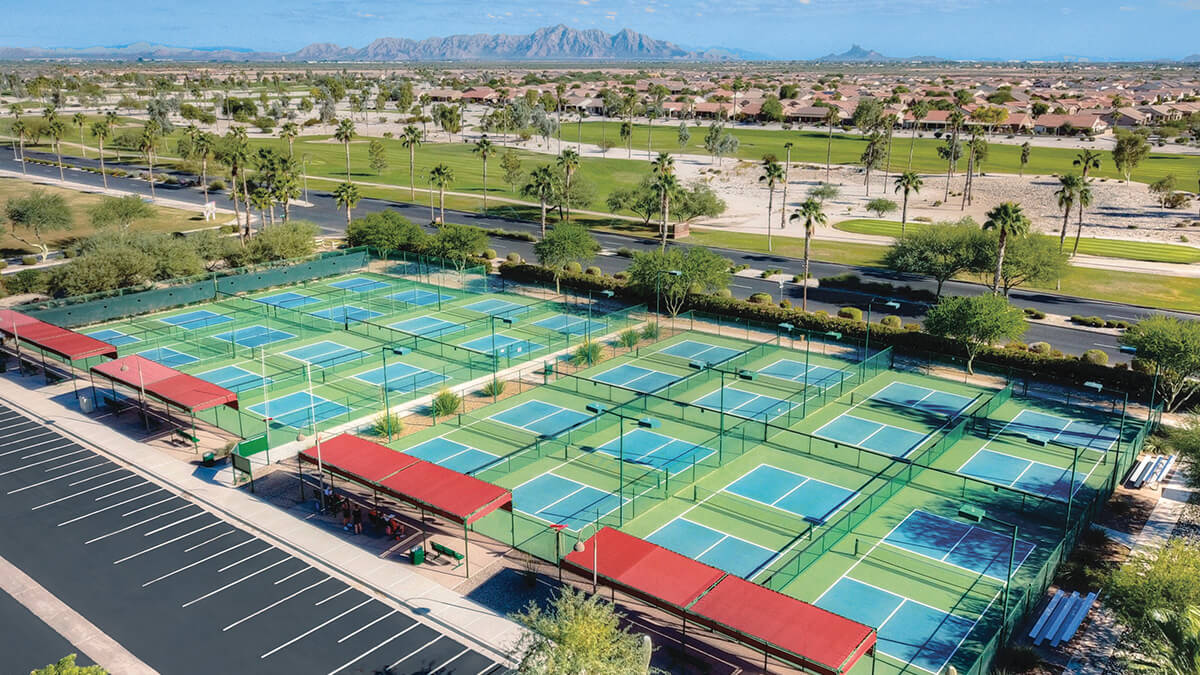 Top 10 Features of Robson Ranch Arizona
October 2, 2020
Imagine waking up each day in a beautiful home surrounded by luxurious amenities and countless activities to fill your schedule. You can enjoy this and more at Robson Ranch Arizona, conveniently located in the Greater Phoenix, Casa Grande area. Discover the great outdoors with a stroll down a walking path or relax at the resort-style pool. Here are just a few features of Robson Ranch Arizona that our homeowners enjoy most.
Top 10 Features of Robson Ranch Arizona
1. Convenient Location
Robson Ranch Arizona is conveniently located near two interstates that put vibrant city attractions, educational opportunities, major sports, airports, and more, less than 60 miles away. Learn more here.
2. High-Quality New Homes
New homes at Robson Ranch Arizona include popular floor plan designs, distinctive architectural elevations and quality construction. In addition, each new home is 100% ENERGY STAR® Certified which saves you money without sacrificing performance. Discover available new homes here.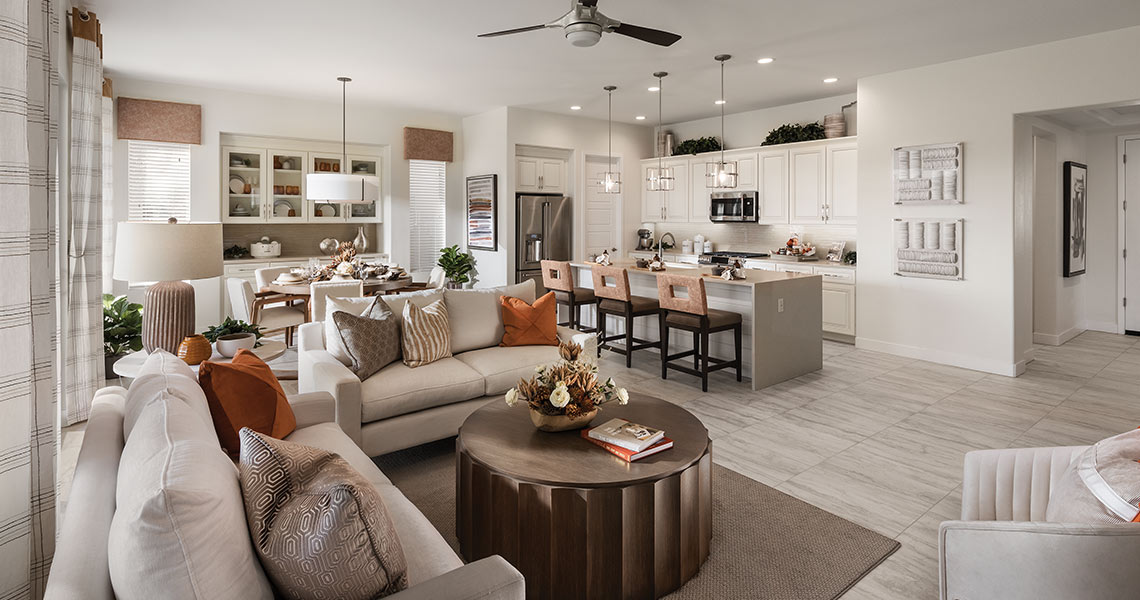 3. 16 Pickleball Courts
There is no denying that Pickleball is a favorite sport amongst active adults. Whether you are an active Pickleball player or a spectator, you are sure to enjoy the 16 Pickleball Courts we offer.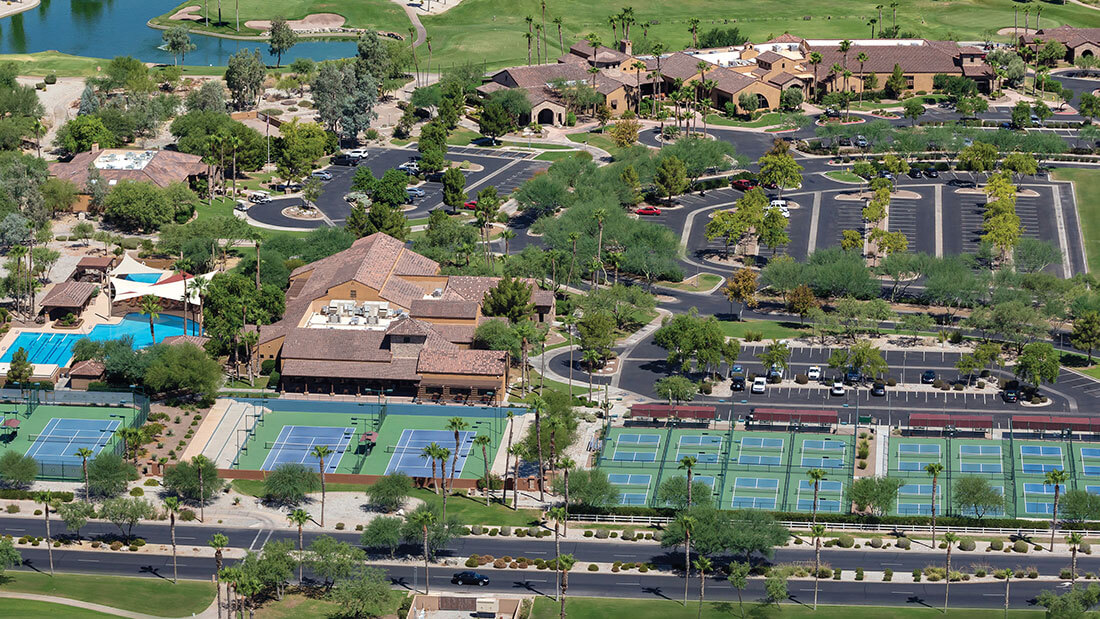 4. Fitness
The fitness amenities at Robson Ranch Arizona encourage our 55+ residents to live an active lifestyle. Our state-of-the-art fitness center includes an open fitness room for social fitness classes such as yoga, dance or aerobics as well as a workout room featuring a wide array of premium exercise equipment. In addition, homeowners can enjoy the four lighted tennis courts and softball field.
5. Social Clubs, Organizations, and Activities
If you have imagined your retirement lifestyle full of social opportunities, then look no further than Robson Ranch Arizona. Our homeowners can participate in an abundance of social clubs and organizations including golf clubs, softball, walking, singing group, a variety of card game clubs, book groups, support groups, creative arts clubs and more. Plus, homeowners enjoy a community calendar full of activities and annual events. To learn more about the activities, clubs and organizations, visit our activities page to see how residents Life Life Inspired.
6. Robson Ranch Arizona Golf Club
Take a swing on the 18-hole championship golf course with rolling fairways, elevated tees and carefully created natural areas supplemented by strategically located bunkers. Enjoy the benefits of living in a golf course retirement community, where the golf staff know you by name and you see familiar friendly faces on the links. Learn more about our golf club here.
7. Ranch House
At the heart of this active adult community is the award-winning Ranch House, which is where homeowners connect with neighbors and foster a sense of community. The Ranch House includes approximately 39,000 sq. ft. of indoor and outdoor space and features the Hermosa Ballroom with stage, multi-purpose rooms, billiards room, tv lounge / coffee bar and the Ranch House Grill offering brunch, lunch and dinner plus a private dining room, lounge and bar.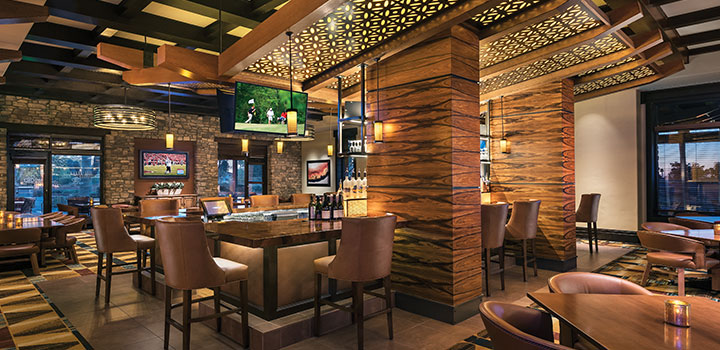 8. Swimming Pools
With plentiful sunshine in the Greater Phoenix, Casa Grande area, our swimming pools are a popular community feature. The resort-style pool and whirlpool provide a refreshing way to relax while the indoor lap pool is perfect for a workout. When your grandchildren come to visit, keep them entertained in the Grandkids pool, designed especially for children.
9. Creative Arts Center
Retirement is a great time to pursue your passions or discover new interests. The Creative Arts Center lets residents express their artistic side with a woodcarving studio, sewing and crafts room, quilting studio, ceramics, stained glass and painting, plus a resident art gallery.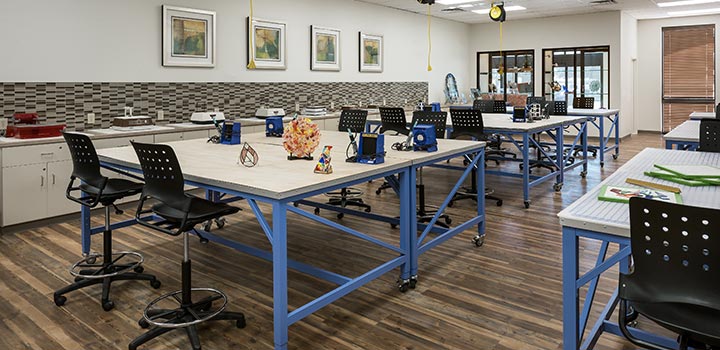 10. Dog Park
The dog park is a favorite amongst 55+ residents that have a four-legged family member. With a fenced in area, residents and their dogs gather and enjoy social time.
Ready to discover the top 10 features of Robson Ranch Arizona for yourself? Stop by today or call 800-732-9949 to schedule a private appointment. If you are ready to experience the lifestyle at the community, explore our Preferred Guest Packages here.