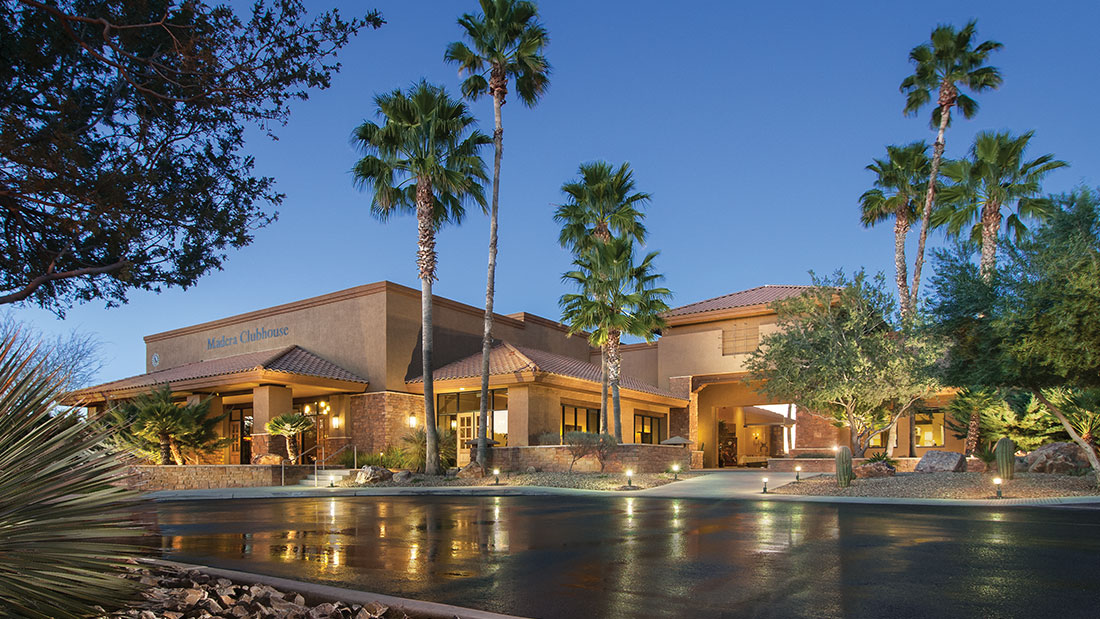 Quail Creek's Madera Clubhouse Revitalization is Complete
December 9, 2020
The resort-style setting of Quail Creek's Madera Clubhouse was made even more impressive by a recent revitalization.  While maintaining the Arizona charm and existing authenticity of the Madera Clubhouse, Kimberly Timmons Interiors, following the direction of Karri Kelly, Senior VP of Commercial Design for Robson Resort Communities, rejuvenated this popular gathering space with a fresh, new look.
The Madera Clubhouse is a popular gathering place full of entertainment options for active adult residents with a ballroom for special events, lending library, multi-purpose rooms, coffee bar and lounge, billiards room and a covered patio with an outdoor fireplace. The revitalization of this luxury amenity includes fresh new paint color, all new flooring throughout a majority of the clubhouse, new decorative LED light fixtures and additional furniture incorporated with existing pieces. In addition, the restrooms were fully renovated to complete this beautiful clubhouse renovation. Learn more about the Madera Clubhouse revitalization here.
As a Quail Creek resident, you will be proud to call the Madera Clubhouse yours. This social hub provides many opportunities to stay connected with fellow active adults while being entertained. The Madera Clubhouse features:
Bar & Lounge
Enjoy gathering with friends for a drink and relax at the well-appointed Bar & Lounge. This is the place to be for social hour and catching up with neighbors.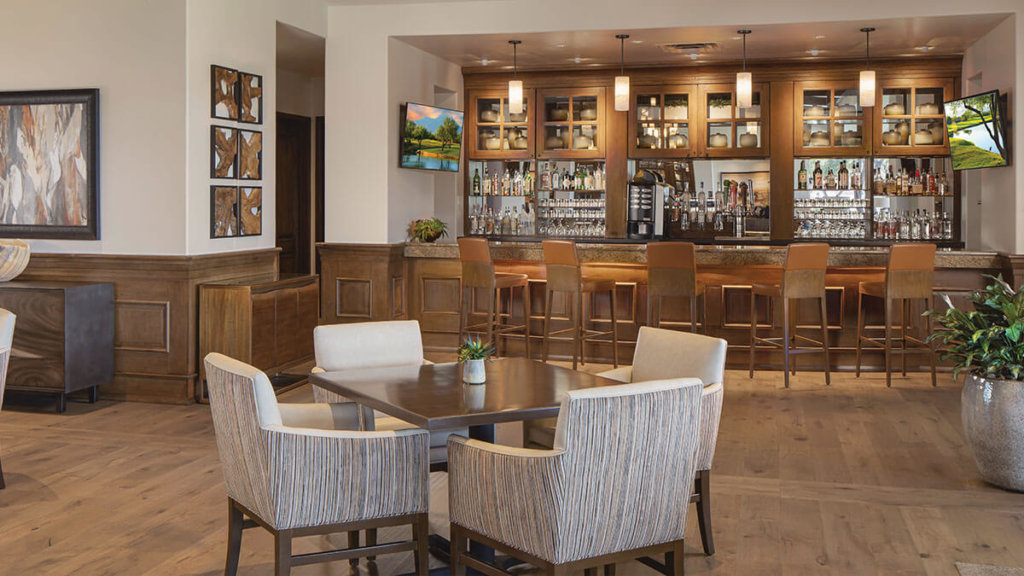 Billiards Room
The Billiards Room offers a cozy yet functional game room setting and features billiards tables, cues and balls. Challenge your friends to a casual game of nine-ball or straight pool.
Lending Library
The lending library at Madera Clubhouse offers more than 4,000 books, DVDs, audiobooks, magazines and more. This elegantly furnished library is well-lit with tables and comfortable chairs for reading a classic novel or the latest bestseller.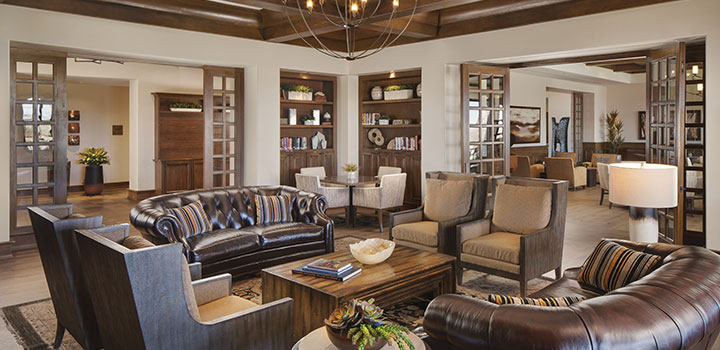 Multi-Purpose Rooms
Madera Clubhouse includes multi-purpose rooms with varying capacities and features tables and comfortable chairs for classes, educational presentations, club meetings and much more.
Crystal Ballroom
The Crystal Ballroom at Madera Clubhouse is an expansive and elegant ballroom. Equip with hardwood floors the ballroom is perfect for dancing, banquets, weddings, and catered events. The Crystal Ballroom also hosts memorable performances by touring professionals as well as by talented Quail Creek homeowners.
Covered Patio & Fireplace
The large covered patio includes a luxurious outdoor lounge area and a fireplace. Gather around the fireplace and enjoy the beautiful Arizona weather and golf course views.
Whether you are attending a performance in the ballroom, reading in the library, enjoying a cup of coffee from the coffee bar, or relaxing on the patio, the Madera Clubhouse exudes resort-style retirement living.
Quail Creek offers an outstanding active adult lifestyle with countless social opportunities including more than 100 clubs, classes and organizations, and luxury amenities in addition to the Madera Clubhouse including fitness facilities, Pickleball, casual dining, fine dining, and creative arts & technology, golf and much more.
Discover the active adult lifestyle and luxury new homes at Quail Creek today by requesting a free video and 24-page color brochure.