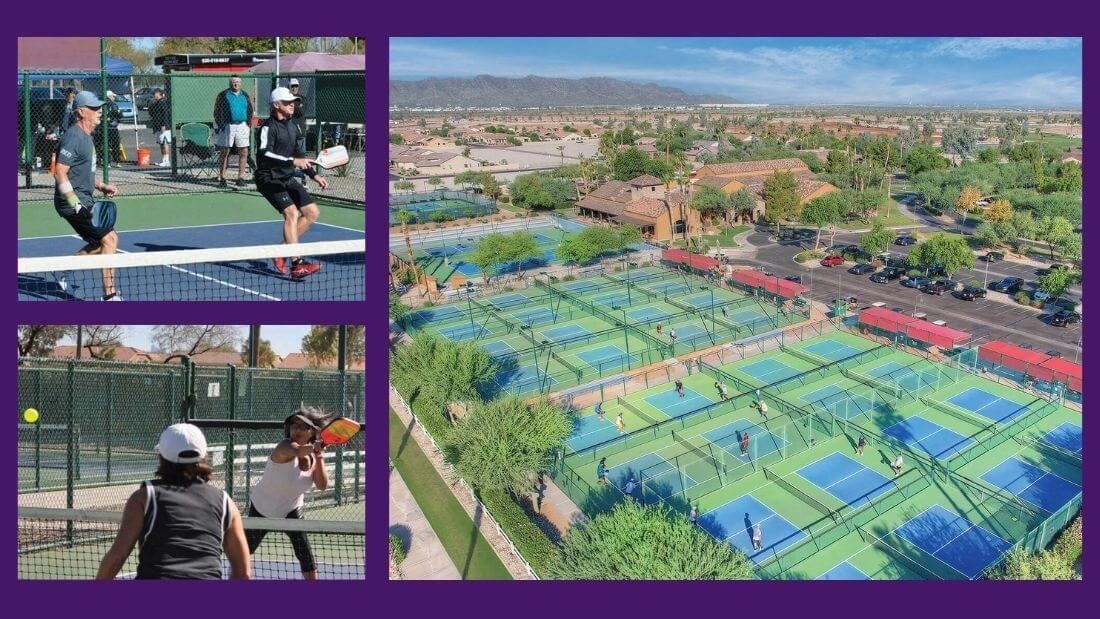 Robson Ranch Arizona Pickleball Club Members Tournament
March 15, 2022
After a one-year hiatus, the 8th Annual Robson Ranch Arizona Members-Only Pickleball Tournament took place. More than 150 players participated in the three-day tournament. The Robson Ranch Pickleball Club has more than 500 members, and the club was well represented both on and off the court with players and volunteers. This tournament is a great beginning ground for players who want to play in tournaments because they get to play with their friends and neighbors.
The sunny (but windy) Arizona weather shined on the players and volunteers. Three local food trucks—Chub's, Los Tios, and Tacos ATM—provided delicious lunch options. A big thanks to all who participated in the tournament as a player or volunteers. Thank you also to the Robson Ranch Arizona staff who helped us out! We couldn't have done it without you, and you were very much appreciated.
The event included a raffle drawing for players and volunteers with many fabulous prizes donated by individuals and Casa Grande, Eloy, and other area businesses.
Here are just a few of the sponsors:
L'Gran Café
Boston Sports Bar & Grill
Eeegees
Chili's
Bent Prop
Agave Dental
Round Trip Bike Shop
Firehouse Subs
Rosati's
IHOP
Stephanie Hair Salon
Anaya's Texas Road House
Grand Slam Tournament
PIG (Pickleball is Great)
Robson Ranch Arizona Sports Club
Eva's
Robson Ranch Arizona Golf
Tennis Cabana
Robson Ranch Arizona Grill
The tournament ended with a pizza party and live music provided by Robson Ranch Arizona resident, Jerry Duruz, to celebrate a great tournament. Thanks to all the player participants and congratulations to the teams who went home with medals.
To see the Pickleball tournament results, please check the latest issue of the Robson Ranch Views community newspaper here.
Written by: Jim Uhrich
About Pickleball at Robson Ranch Arizona
This Arizona 55 community for active adults features a variety of outstanding amenities including 16 Pickleball courts. Several Pickleball clubs are also available for social play and connection. Discover more about the community including the Robson Ranch Arizona homes for sale by calling 800-770-7044 or beginning your home search here.