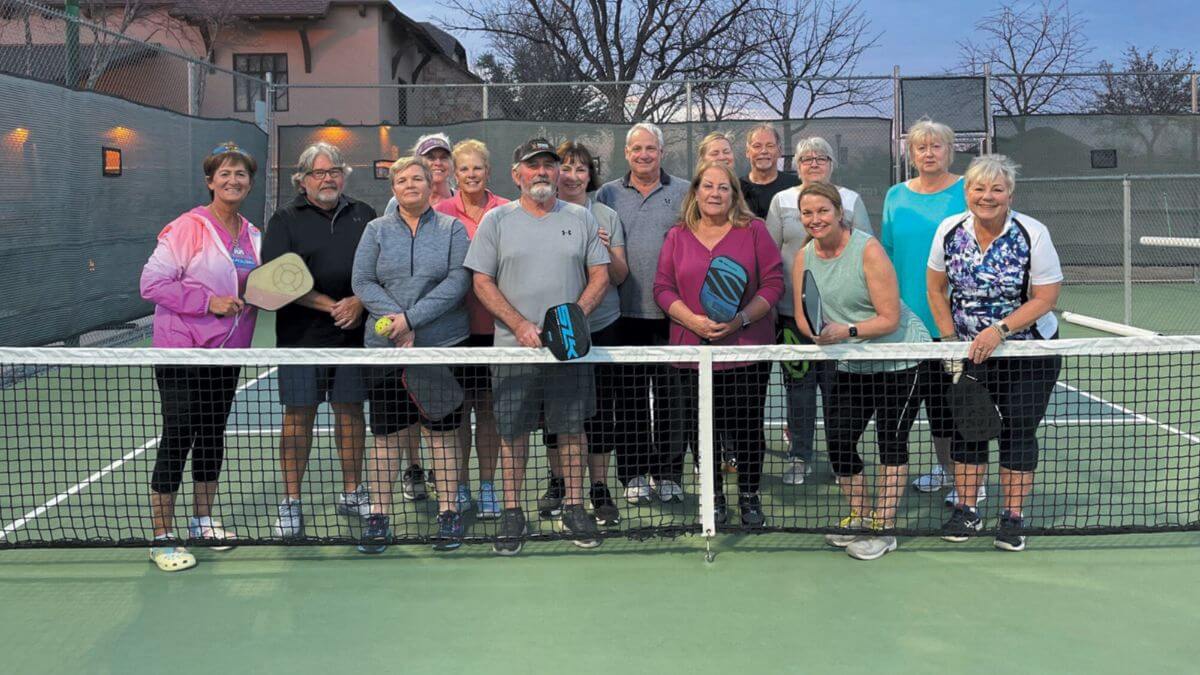 Robson Ranch Texas Learns to Love Pickleball
April 19, 2023
You've probably heard about the latest game sweeping the country. Is it tennis, badminton, or ping pong? Actually, it's Pickleball! This fun, social, and friendly game is easy to learn and has quickly become a popular sport throughout the U.S. and Canada, and even at Robson Ranch Texas.
The Origin and Evolution of Pickleball
According to the USA Pickleball website, credit for creating the game in 1965 goes to Joel Pritchard, Bill Bell, and Barney McCallum, three dads from Bainbridge Island, Wash. Their kids were bored with their usual summertime activities. Since then, Pickleball has evolved from original handmade equipment and simple rules into a fast-growing sport, with many European and Asian countries adding courts.
Pickleball at Robson Ranch Texas
Here at Robson Ranch Texas, we have 16 outdoor courts and 2 indoor courts. The game is played with a paddle and a plastic ball with holes, similar to a Wiffle ball. You can play doubles or singles, and it's suitable for all skill levels and age-friendly.
Interested? Our Pickleball ambassador is ready to assist you. Kathleen Raices or one of our other ambassadors will help you get familiar with the game, the courts, the website, and the ratings process, as well as guide you through the registration process for Pickleball Academy. Academy sessions are available about once a month, with days and times varying based on the season. During the Academy, you will learn the basic rules, how to keep score, and the fundamentals of the game, including the serve requirements, when to enter the "kitchen" area, when to stay out, and how to score points.
My Experience with Pickleball at Robson Ranch Texas
When I moved to Robson Ranch Texas during the "High Season" of COVID-19, all the indoor activities were shut down. As soon as people started to venture outside, I was excited to discover that we could enjoy golf, tennis, and Pickleball for our exercise and social needs. Although I came to Robson as a tennis player, I decided to give Pickleball a try through the Academy. Let me tell you, playing with a Pickleball paddle is a whole new experience! The paddle is much shorter than a tennis racket, the ball doesn't bounce as high, and the scoring is completely different. But with the help of the excellent teachers at Robson, I was able to quickly learn the game and enjoy this exciting sport.
Join us for this fast-growing sport and experience a fun new game. With its low impact and easy-to-learn rules, Pickleball is a great way to stay active and social. You never know, you may just find a new passion for this exciting sport!
Written by Lorie Stockton
About Robson Ranch Texas
Robson Ranch Texas in Denton is the perfect place to enjoy 55+ retirement living while meeting other active adults. Whether you are interested in recreational activities, Pickleball, golf, entertainment, or creative arts, there is something for everyone. Discover the fun lifestyle and see some of the reasons this community ranks among many of the best retirement in Texas lists. Contact us today to learn more about this outstanding active adult community.