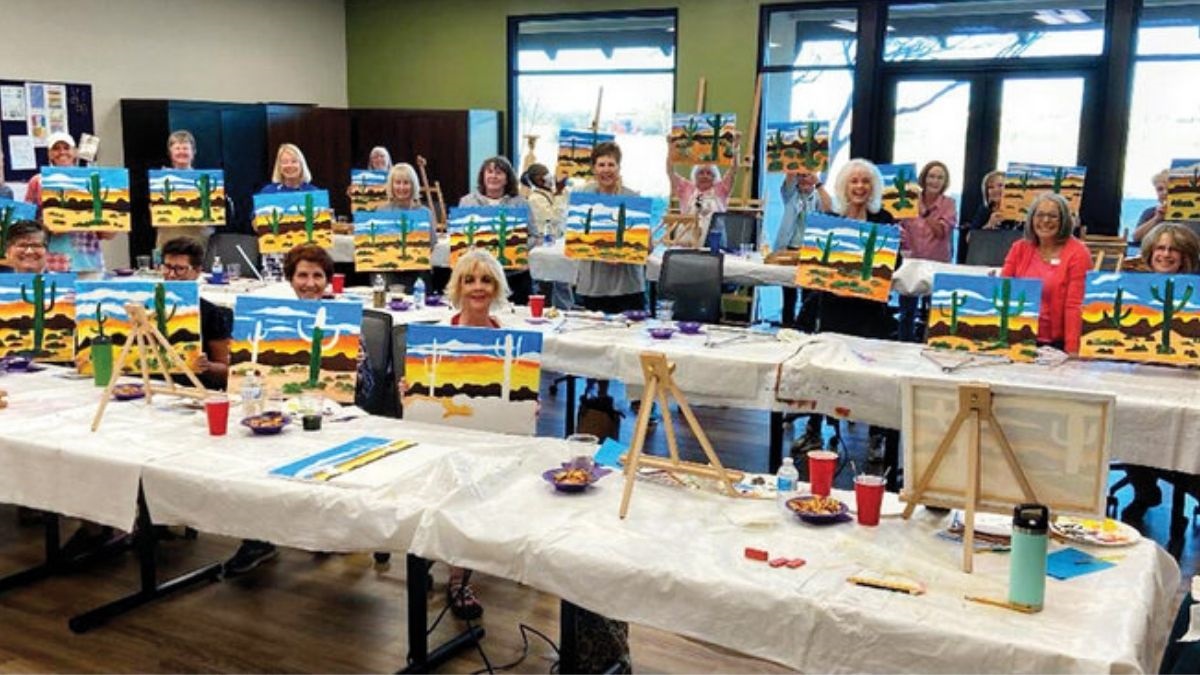 SaddleBrooke Ranch Fundraisers for the Oracle Schools Foundation
May 10, 2022
Whether it's being actively involved within SaddleBrooke Ranch or nearby Tucson area charities, residents of this Arizona retirement community support a variety of organizations, including the Oracle Schools Foundation. Learn more about a few recent fundraising events below.
Paint and Wine Fundraiser Event
More than twenty SaddleBrooke Ranch residents enjoyed a Paint and Wine event, which was a fundraiser for the Oracle Schools Foundation. There was much laughter and fun as everyone tried their hand at painting the beautiful sunset picture with cactus in bloom.
The art instructor and SaddleBrooke Ranch resident, Janice Mihora, provided a demonstration of painting techniques plus information regarding the blending of colors prior to the SaddleBrooke Ranch residents starting on their canvas. During the event, Janice showed the participants various interpretations of the picture that a few of the artists had created. It was so delightful to hear the participants having such a good time and complimenting each other on their artwork! As a fundraiser for Oracle Schools Foundation, Janice donated her time and materials.
Oracle Schools Foundation Spring Fling Gala
With a record-breaking 195 attendees, this year's Oracle Schools Foundation Spring Fling Gala was a huge success! A special thank you to all who attended, bought, bid, made monetary contributions, or donated their talents. There were 38 silent auction items and 12 great live auction items! There were also 27 fixed price events, including house concerts, theme dinners, art classes, a night putting party, and many others.
Subsequently, several of these events have already taken place. Randall Dighton donated his time and talent to entertain a group of 33 people. Before the music began, people had a chance to socialize over appetizers and drinks. Then we settled in to listen to an outstanding performance. Randall sang several Broadway show tunes, as well as some Celtic ballads.
In addition, another outstanding event took place at the home of Mary Jo and Barry Swartzberg, who hosted a "Starry, Starry Night" party. The evening began with hors d'oeuvres and adult beverages, followed by a very interesting presentation about the planets, stars, and formations by Don Cain and Terry Joyce. They were joined by Richard Spitzer. All three men are amateur astronomers and members of the SaddleBrooke Stargazers. They each set up their huge telescopes so that all attendees had an opportunity to look at what is "up there" while enlightening the group about what they were seeing. It was a wonderful evening!
By attending functions such as these, you not only have an opportunity to mix and mingle with fellow SaddleBrooke and SaddleBrooke Ranch friends, neighbors, and new acquaintances, but you are contributing to the auction and supporting young learners in the Oracle School District. We are very grateful to Randall, Don, Terry, and Richard for donating their time and talent to the Oracle Schools Foundation Board.
Written by: Ann Vernon
Benefit Concert
Recently, the Tributaries rocked DesertView Theater at SaddleBrooke, playing to a sold-out auditorium for two and a half hours! This extremely talented group played selections from their shows:
Good Morning Vietnam
The Eagles
Return to Woodstock
Linda Ronstadt: "Just One Look"
Simon and Garfunkel: "Homeward Bound"
Super Songs of the '60s
That '70s Rock Show
CSNY: "Love the One You're With"
The audience sang along, danced in the aisles, and tapped their toes to the songs we all know and love. It was such a great night!
Written by: Ann Vernon
About the Oracle Schools Foundation
The Oracle Schools Foundation is the fundraising arm for the Mountain Vista Schools within Oracle, Arizona. This school district services the students of Oracle; however, it also has students from San Manuel and Mammoth. The monies raised by Oracle Schools Foundation primarily pays for the preschool for 3- and 4-year-old children. In addition, the Oracle Schools Foundation also steps in and helps pay for items the school needs for the students. If you are interested in learning more about the Oracle Schools Foundation, please visit www.oracleschoolsfoundation.com.
About SaddleBrooke Ranch
SaddleBrooke Ranch, located just north of Tucson, Arizona, is an active 55+ community. The vibrant lifestyle at SaddleBrooke includes stunning amenities, golf, clubs, classes, and innovative new homes for sale. Learn more about SaddleBrooke Ranch today by calling 866-818-6068 or fill out our contact form here.