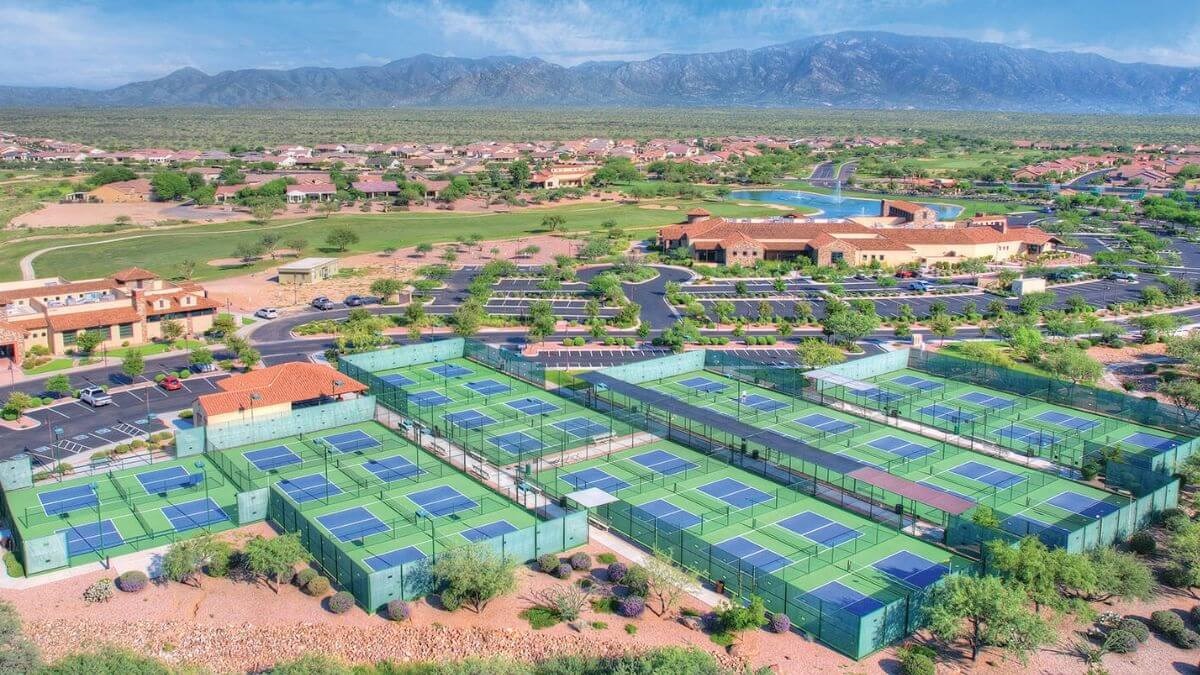 Why Choose a 55+ Community for Retirement
September 27, 2022
Retirement is a reward following decades of work and an opportunity to live your ideal lifestyle. Whether you are fully retired, semi-retired, or approaching retirement, this is an exciting time of your life. You may have financially been planning your retirement for years, but have you considered how you will make the most of it with a desirable new location, a new home that fits your lifestyle, or enjoyable hobbies, fun activities, and social connection? If you haven't already done this, here are a few reasons why you should choose a 55+ community for retirement.
Desirable Retirement Locations
ARIZONA
Picture yourself waking up to a breathtaking morning, with the sun shining brightly and the beauty of nature surrounding you. If this sounds like a dream come true, then Arizona should be on the top of your list! This remarkable state offers a perfect blend of great weather and stunning landscapes, making it an ideal destination for outdoor enthusiasts and nature lovers alike.
Arizona's sunny climate and mild winters have long been irresistible to "snowbirds" – those fortunate individuals who escape the cold and flock to this desert paradise for several months each year. With year-round pleasant weather, you can immerse yourself in the awe-inspiring natural wonders and indulge in a plethora of outdoor activities. And let's not forget about golf, a beloved pastime that thrives in this region. With numerous top-notch golf courses to choose from, you can perfect your swing while basking in the glorious sunshine.
But it's not just about physical activities. Arizona offers a sanctuary for retirees, attracting them from all over the country. The abundance of 55+ retirement communities scattered throughout the state is a testament to this fact. Whether you prefer the vibrant hustle and bustle of the Phoenix metro area or the more serene and laid-back atmosphere of southern Arizona, with charming towns like Tucson and Green Valley, there's a perfect community waiting for you.
So, if you're seeking a place where the weather is consistently delightful, the landscapes are awe-inspiring, and the outdoor adventures are limitless, Arizona is calling your name.
Phoenix Metro Area Retirement Community
Luxury retirement living at PebbleCreek, located in Goodyear, includes a convenient location near shopping, recreation, hiking, golf, Phoenix Sky Harbor Airport, and more. Learn more about the Goodyear area and points of interest near PebbleCreek.
Top Active Adult Community in Greater Phoenix Area
The top Robson Resort Community for active adults in the greater Phoenix area is Robson Ranch Arizona. Located south of the Phoenix suburban areas of Maricopa and Casa Grande, Robson Ranch offers small-town charm with sprawling desert views. Discover more about the Robson Ranch Arizona location.
Choose a 55+ Community in Southern Arizona
If you're yearning for a tranquil haven with awe-inspiring mountain vistas, look no further than SaddleBrooke Ranch, nestled just north of Tucson. This sought-after retirement destination offers an idyllic setting that will take your breath away. Find out more about the captivating SaddleBrooke Ranch area and all it has to offer in terms of local resources and amenities.
When it comes to picturesque Southern Arizona communities, The Preserve at SaddleBrooke stands out for its remarkable mountain backdrop and elevated living experience for adults aged 55 and over. Immerse yourself in the stunning surroundings and explore the nearby shopping, an array of recreational activities, and more. Uncover the abundant resources available to residents of The Preserve at SaddleBrooke and envision a life of serenity and fulfillment.
The Green Valley and Sahuarita region in southern Arizona has consistently ranked high on various "best places to retire" lists, and it's no wonder why. Among the vibrant retirement communities in Green Valley, Quail Creek shines as a gateway to everything that southern Arizona has to offer. Delve into the wealth of resources and information about the Green Valley area and discover why you should choose a 55+ community for retirement in Green Valley.
If you're in search of a retirement destination that combines natural beauty, a wealth of activities, and a sense of community, these Arizona communities will surely captivate your heart. Start envisioning your dreams today and choose a 55+ community in southern Arizona.
TEXAS
If you were to choose a 55+ community in Texas, deciding on a location can be quite a task. However, Robson Ranch Texas, located in the Dallas / Fort Worth Metroplex area provides an ideal mix of quiet suburban living and big-city excitement.
Desirable Denton, Texas Retirement
Located within the prairies and lakes region of Texas, Robson Ranch is near all the modern conveniences you are familiar with. See what's around town at Robson Ranch Texas!
New Homes for Ideal Retirement Living
A new home can inspire you to evaluate the most important areas of a home. Does your retirement lifestyle mean you are ready to downsize or right-size? Perhaps you are interested in the benefits of dual bedrooms suites or looking forward to extra space for your hobbies. New homes for sale at each Robson Resort Community offer the opportunity to create the home of your dreams. New homes vary with interior and exterior options all with ideal retirement living in mind. Discover thoughtfully designed 55+ homes below:
PebbleCreek – This gated Arizona retirement community in Goodyear, features four new home collections and 12 model homes.
Robson Ranch Arizona – With small-town charm and wide-open spaces, this Casa Grande area community offers new homes starting from 1,236 sq. ft.
SaddleBrooke Ranch – Surrounded by stunning Southwestern scenery, this 55+ community located just north of Tucson includes a variety of new home plans up to 3,077 sq. ft.
The Preserve at SaddleBrooke – Luxury living for active adults awaits in this North Tucson Community. Discover the new homes today!
Quail Creek – Featuring 11 model homes, this Green Valley / Sahuarita area retirement community has it all.
Robson Ranch Texas – The Dallas / Fort Worth area Texas retirement community is located in a desirable area and offers a stunning variety of new homes for sale.
Choose a 55+ Community and Discover a World of Opportunities
Active adult communities offer a plethora of exciting possibilities that connect you with engaging activities, hobbies, and a vibrant network of friends. Every master-planned Robson Resort Community is thoughtfully designed to cultivate a retirement lifestyle centered around social connection and fulfillment. Embrace this new chapter of your life and dive into a world of endless opportunities!
Retirement should never be seen as a time to slow down; instead, it's an invitation to indulge in activities purely for the joy of it. Here are just a few exhilarating activities and hobbies that keep active adults thriving in retirement:
Enjoy the Amenities
Rivaling top over 55 communities, the moment you arrive at a Robson Resort Community you will notice the upscale amenities. From championship golf and Pickleball to a resort-style pool, clubhouse, and more, there is truly something for everyone to enjoy.
Join a Club
Each 55 and over Robson Resort Community provides residents with myriad clubs varying in interest and activity. Discover more about the activities and clubs here. 
Gardening
Whether you are a new gardener or an expert, your golden years offer plenty of time to explore this hobby. Robson Ranch Texas and SaddleBrooke Ranch feature community garden centers with individual garden boxes available for lease.
Travel the World
Take a cruise, RV throughout the U.S., or go abroad. If travel is part of your ideal retirement, surrounding yourself with other retirees can spark your jet-setting desires.
Learn
Expanding your knowledge is enriching at any age and even more so in retirement. Many active adult communities offer programs and seminars for residents.
For a more detailed look at the amenities and activities at each retirement community, chose the location below:
PebbleCreek
Robson Ranch Arizona
SaddleBrooke Ranch
The Preserve at SaddleBrooke
Quail Creek
Robson Ranch Texas
Experience an Extraordinary Retirement Lifestyle in a Robson Resort Community
Are you yearning for a fresh start in retirement? Look no further than a Robson Resort Community, specifically designed to offer an incredible active adult lifestyle. But don't just take our word for it; hear directly from the residents themselves. Discover their firsthand experiences and testimonials here.
Don't just dream about choosing a 55+ community for retirement – make it a reality with a Robson Resort Community. Visit our website and explore the resident stories, then reach out to us for more information. Your vibrant and fulfilling retirement awaits!