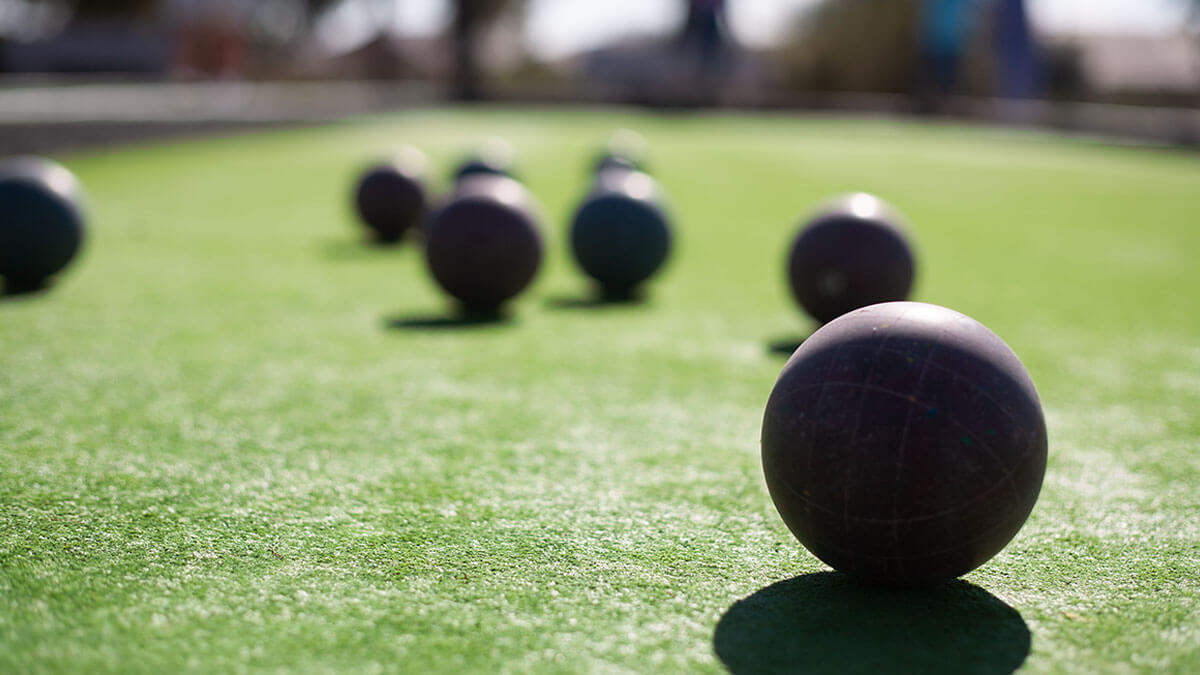 Bocce Ball Courts Proposed Plan at Robson Ranch Texas
October 19, 2023
Get ready for even more amenities at Robson Ranch Texas! Proposed plans for a dedicated bocce ball courts are underway. The proposed concept plan for the bocce ball courts is designed to enhance the active 55+ lifestyle and luxury amenities offered within this Texas retirement community.
Discover the Proposed Bocce Ball Courts Plan >>
Proposed Bocce Ball Courts
As the popularity of bocce ball has grown within this 55+ community, so has the desire for dedicated courts. With much anticipation, Robson Ranch unveiled its proposed plan for bocce ball, which currently features 8 dedicated bocce ball courts, shade ramadas, seating, and more.
This proposed plan for bocce ball courts is creating much excitement by residents and especially by members of the Robson Ranch Denton Bocce Ball League. Since 2017, the Robson Ranch Bocce Ball League has been organizing weekly play during the fall and summer months on the patio at the Wildhorse Grill. The league began with just over 60 players and now has more than 800 players. Members of the league not only enjoy the game, but also enjoy the social opportunity that bocce ball provides to visit with friends and neighbors.
The proposed bocce ball courts are sure to be a hit with active adults at Robson Ranch Texas! Are you ready to discover the 55+ lifestyle you've always dreamt of with fun activities and events, luxury amenities, and more? Schedule a Preferred Guest Visit or call 888-988-3927 to request more information today!
What's Bocce Ball
Bocce ball is a captivating sport enjoyed by many for centuries. Whether you're a casual player looking for a fun outdoor activity or a competitive enthusiast aiming for the bullseye, bocce ball offers a delightful blend of skill, strategy, and camaraderie. Let's explore the world of bocce ball, including its history, rules, and why it's a game that's loved by people of all ages from children, to active adults and seniors.
A Brief History of Bocce Ball
Bocce ball has a rich history dating back to the Roman Empire. Its origins can be traced to ancient Egypt, where people played a similar game with polished stones. Over time, the game became immensely popular and eventually made its way around the world.
The word "bocce" is derived from the Italian "boccia," meaning "bowl" or "ball." It is also known as "bocce, bocci, or boccia" in various regions, but the game's essence remains the same: to roll or throw a set of balls as close as possible to a smaller target ball, known as the "pallino."
The Objective of Bocce Ball
The objective of bocce ball is simple yet captivating. Two teams, each comprising one to four players, take turns to roll their balls toward the pallino. The team that gets their balls closest to the pallino at the end of the game wins. Sounds easy, right? But, there's a catch. Your opponents can strategically knock your balls away from the target, making every throw a game of precision and tactics.
The Rules of the Game
Bocce ball may be simple to understand, but it has some important rules to maintain fairness and excitement. Here are the basics:
Setting Up: To start a game of bocce, select a flat and level playing area. The pallino is thrown first, and the team that throws it also delivers the first bocce ball.
Gameplay: Each team takes turns throwing their bocce balls, trying to get as close to the pallino as possible. Teams can aim to knock their opponents' balls away from the target.
Scoring: After all balls have been thrown, points are awarded to the team with the ball closest to the pallino. Teams earn one point for each ball that is closer to the pallino than the closest ball of the opposing team. The game usually goes up to a set number of points, such as 10, to determine the winner.
Etiquette: Respect your opponents and follow the rules of good sportsmanship. Bocce ball is a social game, and it's essential to enjoy it in the spirit of friendly competition.
Why Play Bocce Ball
Bocce ball is more than just a game; it's an experience that combines skill, strategy, and leisure. Here are a few reasons why you should consider giving bocce ball a try:
Accessibility: Bocce ball can be played by people of all ages and abilities. The rules are straightforward, and it doesn't require intense physical exertion.
Social Connection: Bocce ball is a great way to connect with friends and family. Whether you're enjoying a casual game in the backyard or participating in the Robson Ranch Bocce Ball league, it's an excellent opportunity to bond.
Strategic Thinking: While bocce may seem like a simple game, there's a surprising amount of strategy involved. Players must think critically to outmaneuver their opponents and secure victory.
Outdoor Enjoyment: Typically, bocce ball is played outdoors, making it a perfect choice for soaking up some Texas sun and enjoying the fresh air.
Endless Fun: Whether you're a competitive player or just looking for a good time, bocce ball offers hours of entertainment and enjoyment.
Bocce ball is a captivating game that has stood the test of time. Its rich history, simple rules, and potential for strategy make it a delightful pastime for people of all ages. So, grab some bocce balls and discover the joy of the game for yourself. It might just become your new favorite outdoor activity!
Keep an eye out for updates on the Robson Ranch Texas Bocce Ball Courts proposed plan and sign up for updates and promotions.
Ready to learn more about Robson Ranch Texas in Denton?
Contact us today for more information about Robson Ranch Texas:
Call us 800-770-7044
Chat with our team
Request more information
Schedule a Preferred Guest Stay