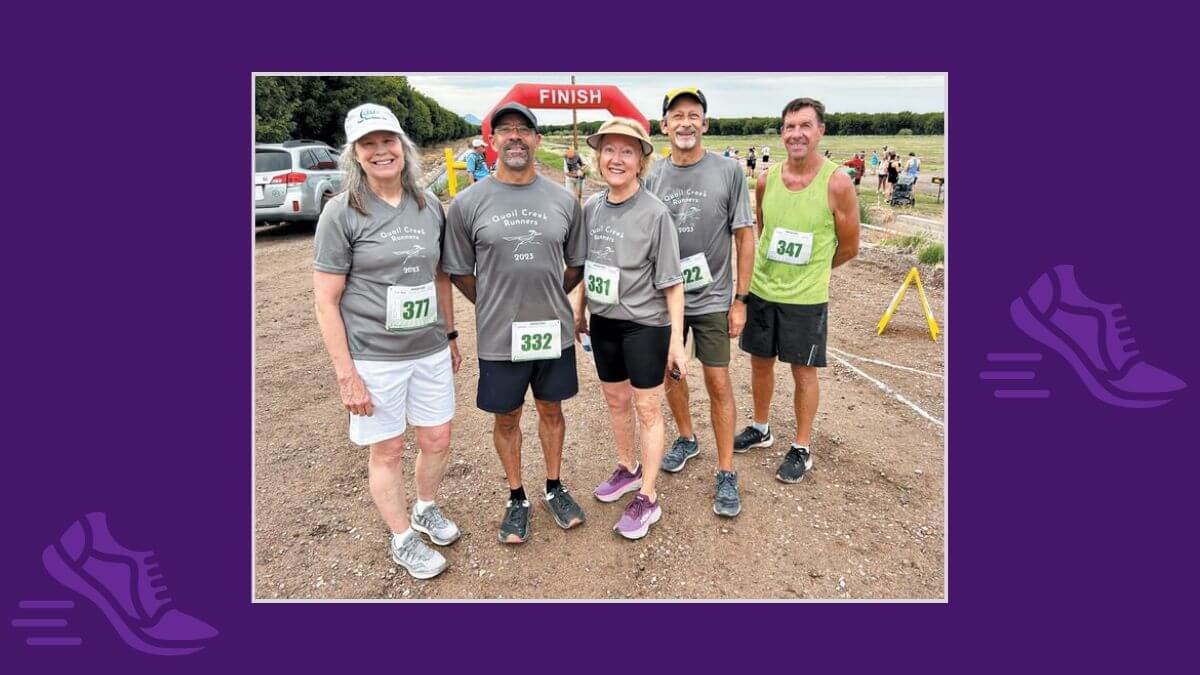 Quail Creek Runners on the Run and in the Race
September 20, 2023
Recently, five members of the Quail Creek Runners Club embarked on an exciting adventure at the 12th Annual Breeze in the Trees 5K Run/Walk. The race kicked off at 7 a.m. with a backdrop of cloudy skies and cool temperatures at 71 degrees. Participants were treated to a picturesque route that meandered through pecan orchards. The route took them next to majestic pecan trees and beneath their leafy canopy, creating a truly memorable experience. With several twists and turns, the course offered a truly memorable experience.
Unwavering Determination
The QC Runners Club has a reputation for their contagious enthusiasm and unwavering determination. Amidst fierce competition from runners across Tucson and the surrounding areas, these spirited individuals proudly sported their QC Runners Club T-shirts. They gathered for post-race celebrations after crossing the finish line. The celebrations included refreshing beverages, group photos, well-deserved awards, and friendly banter with fellow runners.
Admirable Achievements by QC Runners
The QC Runners Club members displayed sheer talent as all five participants excelled in their respective age groups. Abe Monreal showcased his prowess by securing the 19th overall position out of 189 runners. He also achieved an impressive second place in the Men's 55-59 category. Then, Stuart Lisk claimed second place and John Worley took home third place in the fiercely competitive Men's 65-69 category. In the Women's 70-74 category, Barb Christensen emerged victorious in first place, while Alphie Smith proudly claimed the third spot in the same division.
Passing the Baton: New Race Director
In an exciting development, Steve Taggart, the current race director, has decided to pass the baton to a new generation. Although he will be stepping down, the Orchard Series will continue under the Walden family, proud owners of the Green Valley Pecan Company.
Future Adventures
As the Quail Creek Runners Club looks ahead, they are already preparing for their next thrilling endeavor: the Pecan Classic 10K Run and 5K Run/Walk. Calling all early birds! The QC Runners Club gathers for invigorating runs every weekend. Don't run? Walkers are welcome too. Discover the joys of being part of this vibrant group by finding QC Runners as a group activity on GroupWorks.
Contributions by Alphie Smith
About Quail Creek
Quail Creek, a retirement community located in the Green Valley / Sahuarita area of southern Arizona, offers an abundance of fitness and wellness activities that promote a dynamic 55+ lifestyle. These activities cater to varying levels of experience, and include line dancing, Pickleball, golf, and running to name a few. With numerous clubs, classes, and activities, active adults can pursue their passion for wellness and fitness.
Learn more about the fun clubs and activities at this Arizona retirement community here or call 888-648-0332 today to request more information about Quail Creek.