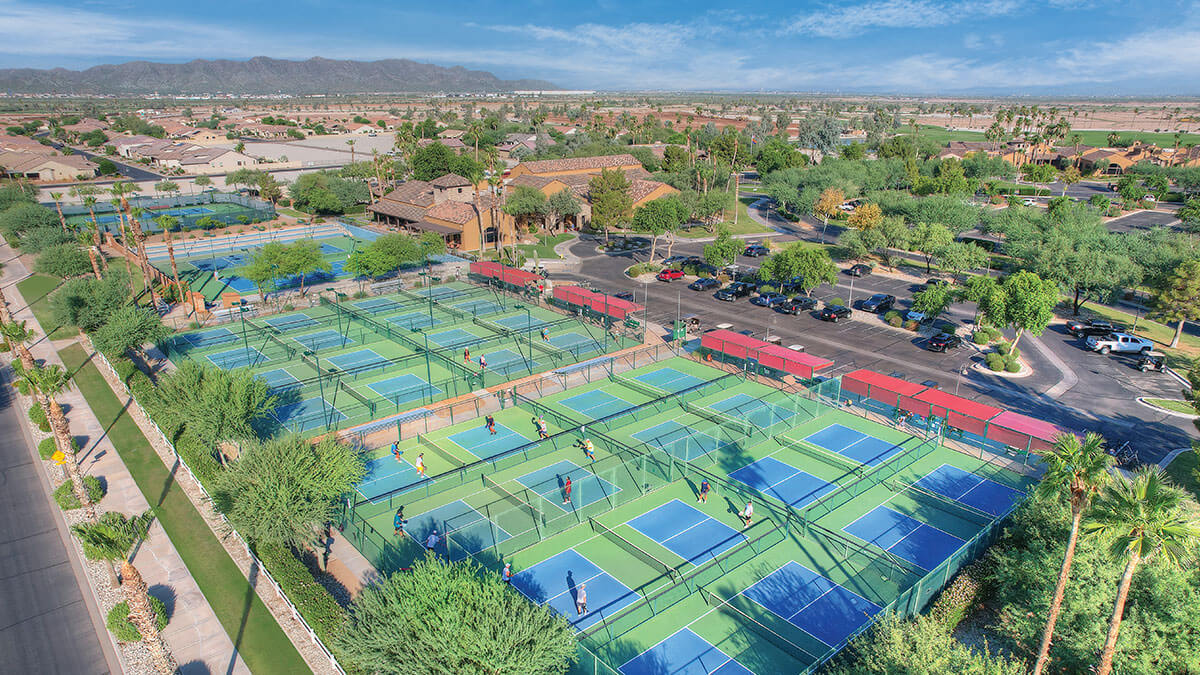 Robson Ranch Arizona and Pickleball Doubles Strategies
September 20, 2023
Let's begin by exploring the insights of two professional Hall of Fame players, Alex Hamner and Jennifer Lucore, on Pickleball doubles strategies using Mary Littlewood's book "Pickleball Fundamentals: Master the basics and compete with confidence." Hamner and Lucore were the national women's doubles champions from 2011 to 2014 and are still active competitors. (Please note that quotes have been paraphrased for brevity — buy Ms. Littlewood's book to get the whole story!)
Together as a Team
Move up to and back from the net together as a team. After making a deep return of serve, the receiver should quickly move to the non-volley zone to join her partner at the net, where they win points. The serving team should stay back at the baseline and use their third-ball strategy (third-shot drop, drive or the occasional lob) then work their way as quickly as possible to the non-volley zone line where points are once again won at the net. Keep your partner in your peripheral vision to ensure you are coming in together. One partner back while the other partner is up creates a gap in the middle where the receivers can hit through your court. Stay together.
Move left and right together. Just like moving up together, stay together when moving right and left. Once again, if one partner moves left or right while the other stays in their position, it opens a gap between you, creating an easy target for the opponents to hit through your court. Imagine you and your partner are tied together by an imaginary rope. Keep this rope taut at all times.
Think "Mine" Not "Yours"
Don't let anything through the middle of your court. This is true at the baseline and the non-volley zone line. Think "mine" not "yours" when a ball is hit between you and your partner. Go for it! Call it! It's better if both of you go for it than neither one of you. Be decisive. Many partnerships designate one partner to make these calls. Consider this strategy.
Communicate, communicate, communicate. Your call doesn't have to be loud, but it must be decisive, clear, and short. Say things like, "mine, yours, got it, hit it, or go!" If an opponent's shot appears to be going out, say "bounce, no, up, or watch it!" If a ball is close to the net and you can't get to it in time, say "yours!" or "get it!" to your partner.
The Kitchen Isn't Just for Cooking
Once you're at the kitchen, stay there. If you take a step back to hit a dink that has landed deep, be sure to step back up to the kitchen line. If you don't, you may eventually find yourself in no-man's land. Since you are moving with your partner, you don't want your partner moving back also. Remember, points are won at the net.
Keep these Pickleball doubles strategies in mind the next time you hit the court and watch your game flourish!
Written by David Zapatka
About Robson Ranch Arizona Pickleball Club
Robson Ranch Arizona, a retirement community in the Greater Phoenix area, is home to 16 state-of-the-art courts and hosted the prestigious USA Pickleball Nationals event in 2015, highlighting its remarkable Pickleball facilities. With a thriving and expanding membership of over 600 residents, the Robson Ranch Arizona Pickleball Club exemplifies the community's dedication to enjoyment and active living at any age. Come be part of the excitement, forge new friendships, and display your Pickleball prowess under the sunny Arizona skies!
Call 800-770-7044 or contact us to learn more about the new homes for sale, luxury community amenities, and 55+ lifestyle at Robson Ranch Arizona today.