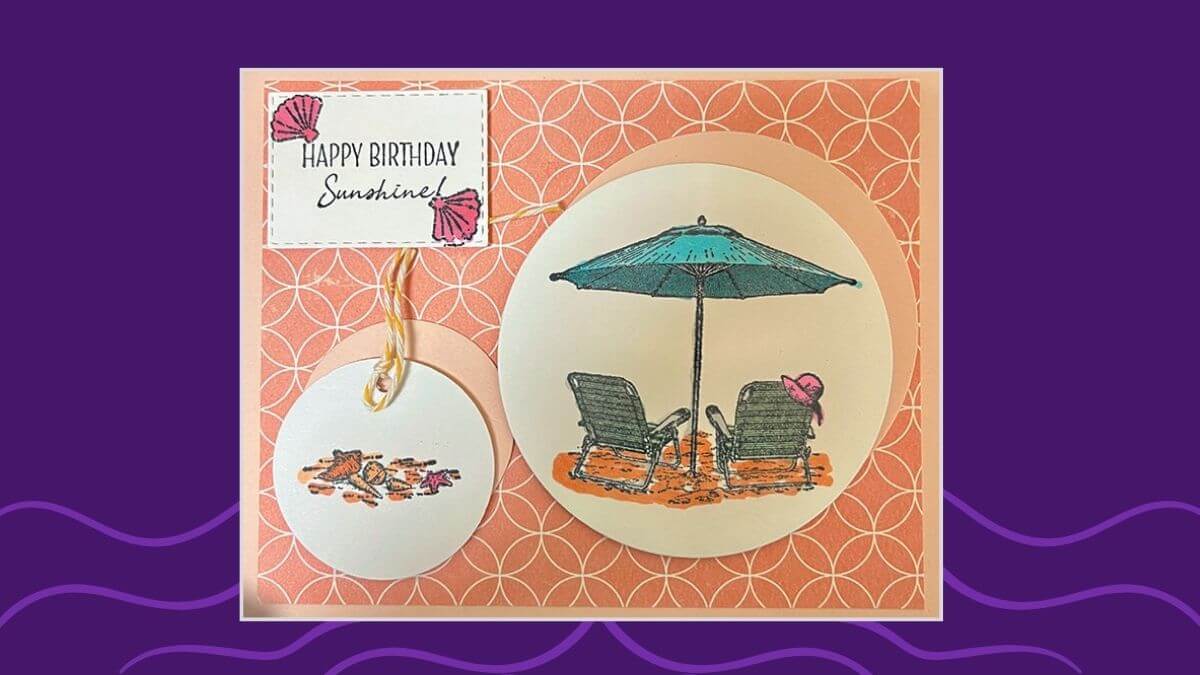 Sassy Stampers Beach Party at Robson Ranch Texas
September 20, 2023
Ahoy, Stampers! The Sassy Stampers Beach Party has commenced. It was a sunny day on the beach. Therefore, it was the perfect setting for seasoned and new Stampers at Robson Ranch Texas to gather and create the latest: a beach-themed card, brought to us by the talented JoAnn Gantos.
An Ever-Growing Stampers Family
Before any beach play, the business side of the meeting started with the welcoming of three new members to the Sassy Stampers Club, bringing our membership to roughly 80 Stampers!
Get Ready for Crafty Adventures!
Get ready for some crafty adventures, Stampers! We have exciting special events lined up to help broaden our crafting knowledge. So, keep an eye out for updates in GroupWorks, where we'll announce all the details. It's time to take our creativity to new heights!
Let Your Creativity Shine
Calling all Stampers! One of the highlights of our monthly meetings is filling the Creative Arts & Technology Center (CATC) display window with our amazing creations. Additionally, there was a gift card drawing for window cards and recognition for the volunteers of the month. Then, the decision for colors for the next window cards was determined to be lime green, purple, orange, and black. Let the scary and spooky begin!
Santa's Elves Are Busy Crafting
Believe it or not, it's never too early to start preparing for the most wonderful time of the year! At Sassy Stampers, we believe in giving back. Our main charity focus is Support Our Troops (SOT). Every year, we diligently craft birthday, Christmas, and monthly cards for dispatch to the brave servicemen and women on the SOT roster. This year, we have been tasked with spreading our kindness to the Justin Food Bank by creating Christmas cards. Furthermore, children visiting the food bank will have the opportunity to choose a special card made by Sassy Stampers to accompany their chosen gift for their parents. Stay tuned for our mass assembly in September. Looks like Santa's elves aren't the only ones getting into the festive spirit early! Together, let's spread love, joy, and creativity this holiday season.
Let's Hit the Beach!
Now, off to the beach! We introduced the beach-themed card, and then our talented table teachers took the torch, sharing their words of wisdom and suggestions on how to put their own unique spin on the card. The tables buzzed with a beautiful assortment of beach-themed stamps and vibrant colored pencils, igniting the imaginations of tablemates as they crafted their perfect day at the beach. Picture toes in the sand, sand buckets, sandcastles, and palm trees swaying gently, creating the perfect shade for a comfortable beach chair. The joy of witnessing everyone sharing their ideas and creations is a reward in itself. Who knows, you might just be lucky enough to receive one of these special, handmade beach cards!
Peek into Our Colorful World
Last but not least, we encourage you to stop by and take a peek into our Stampers' window at the CATC. We promise you'll be greeted with an inspiring display of creativity, love, and passion. So, make sure to visit soon and let the magic of our beautiful cards captivate you!
The Sassy Stampers Beach Party brought the beach vibes and crafting joy to everyone. Time to go wash off the sand.
Contributions from Cherlyn Conway
About Robson Ranch Texas
There's nothing quite like Texas to make you feel like you have everything you need right at your fingertips. Located within the Denton area of the thriving Dallas/Fort Worth Metroplex, Robson Ranch Texas is a stunning retirement community that boasts gorgeous ranch-style scenery and breathtaking views that seem to go on forever. In addition to the picturesque surroundings, the community offers an active adult lifestyle that can't be beaten. With world-class amenities and a wide variety of clubs, classes and organizations to choose from, Robson Ranch Texas truly provides an extraordinary resort-style living experience. If you're looking for a fun club to participate in, Sassy Stampers welcomes new and experienced stampers to join in on the fun!
Contact us today to learn more about exceptional 55+ living at Robson Ranch Texas.