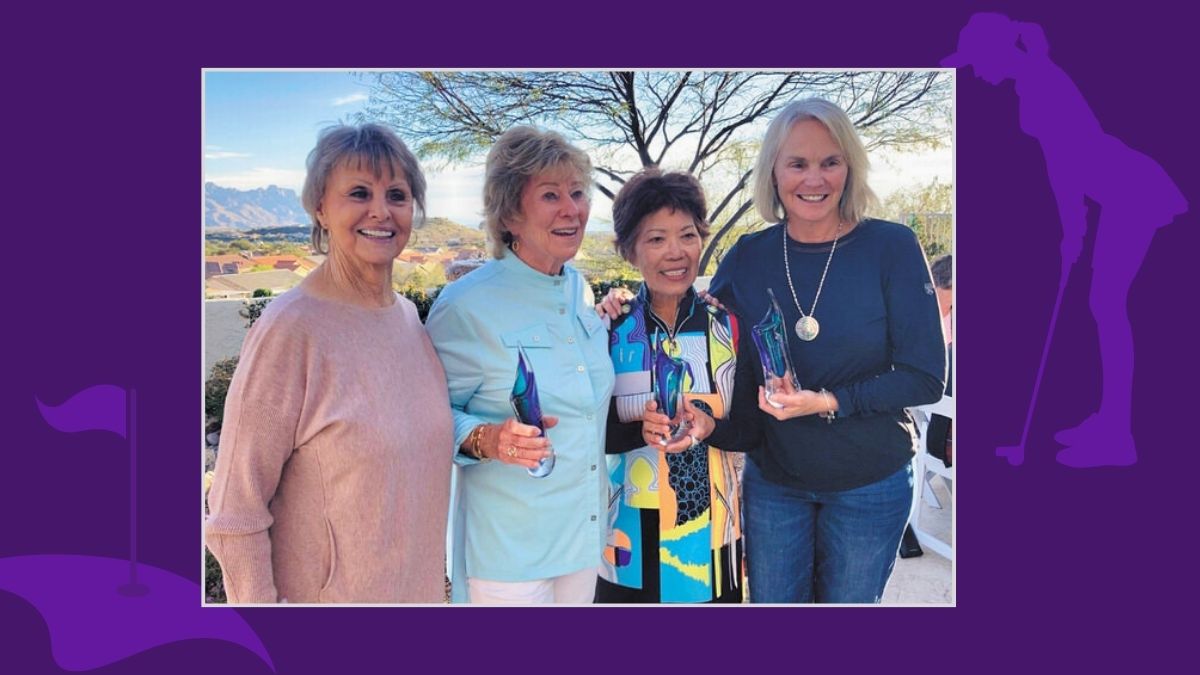 SaddleBrooke's Community of Women Golfers Unite
September 20, 2023
SaddleBrooke's community of women golfers is united in camaraderie and spirit through the SaddleBrooke Women's Golf Association (SBWGA-18). Join us as we tee up and take a swing at the highlights of recent achievements and exciting updates.
Unsung Hero
Every month we extend our appreciation to our valued sponsors, but there's someone we haven't mentioned — Sherry Fitzpatrick. Sherry is an exceptional individual, who is a member of the SBWGA-18. She donates stunning glass vase trophies to the winners of our major tournaments, including the Cactus Classic, Presidents Cup, and Club Championship. Sherry started this generous act of donation in 2018, after noticing that the winners of these prestigious tournaments had nothing to take home. The fortunate recipients treasure these cherished awards. In a wonderful twist of fate, Sherry herself won a trophy playing in the Cactus Classic shortly after initiating this selfless act of donation. The members of SBWGA-18 wholeheartedly appreciate Sherry's remarkable generosity.
Ace Day Champions
Meanwhile, we are thrilled to announce the names of our talented golfers who emerged as winners in the latest Ace Day competition: Brenda Brown (low gross score of 85) and Sally Drennen (low net score of 65). July Ace Day winners were TK Eakin and Geri Sandilands. Congratulations to all of them for exhibiting extraordinary golfing skills!
Embracing New Beginnings
As the new season approaches, we eagerly anticipate the return of snowbirds to our community. SBWGA-18 is dedicated to promoting and conserving the best interest and true spirit of the game of golf. Therefore, we extend a heartfelt invitation to both current and new members to join us. Additionally, we're pleased to announce that you can now conveniently register for our monthly luncheon meetings on the Golf Genius website.
Welcoming New Members
We delight in introducing our newest members, Janice Hoover and Laurie Duxbury, to our vibrant and inclusive golfing community. Janice recently moved to SaddleBrooke from Washington State, and has already become an integral part of our golf group. Meanwhile, Laurie, a CPA from Minnesota, recently joined as well. Welcome, both of you!
Appreciation for Our Sponsors
Finally, we sincerely appreciate the steadfast support of our valued sponsors for their unwavering commitment to our league activities. Our heartfelt gratitude goes out to AIM Mail Center, Andy's Irrigation, Big Bear Garage, G & K's Entryways, and the Happy Saguaro. Thank you for uniting SaddleBrooke's community of women golfers with your consistent and generous support!
For more information about schedules, events or membership, to visit the SaddleBrooke Women's Golf Association (SBWGA-18) website.
Contributions by Shirley Hamann
About The Preserve at SaddleBrooke/SaddleBrooke
Nestled just north of Tucson, The Preserve at SaddleBrooke/SaddleBrooke is a vibrant 55+ community with breathtaking mountain vistas, picturesque golf course fairways, and exceptional world-class amenities. This active adult community is committed to promoting wellness, fitness, and enjoyment. Therefore, it offers a wide range of over 100 activities, clubs, and classes, including golf, Pickleball, dance, and creative arts. Contact us today to discover more about the exceptional 55-plus living The Preserve.