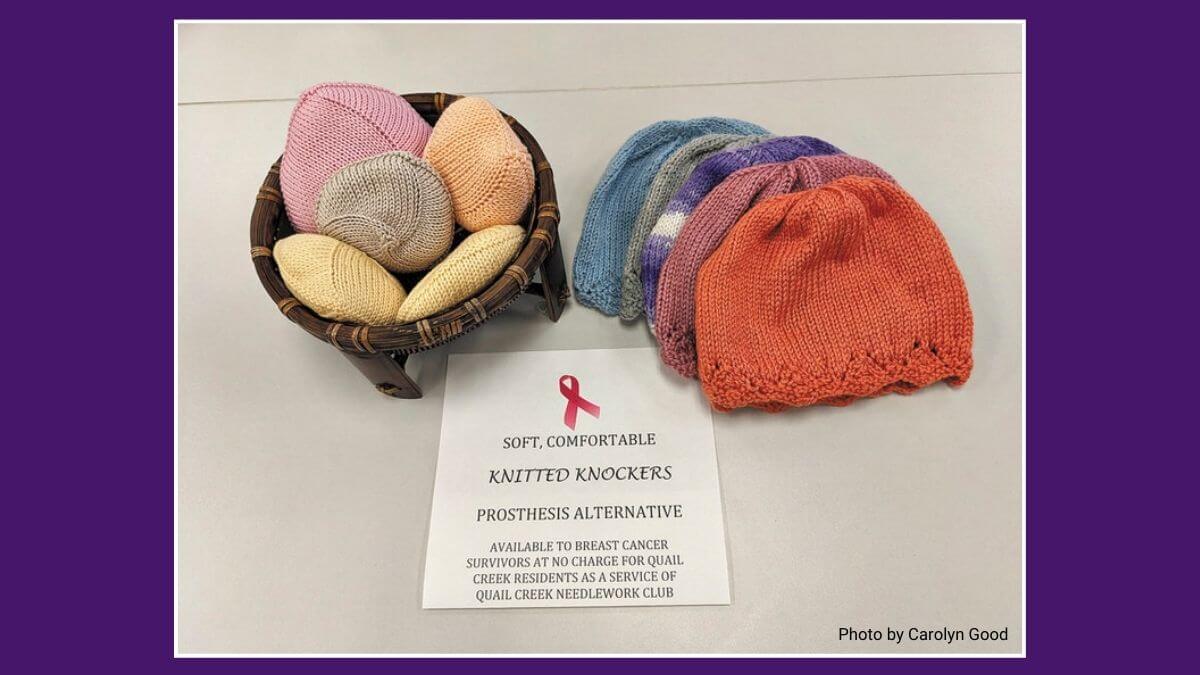 Supporting Cancer Survivors at Quail Creek
October 26, 2023
During October, Breast Cancer Awareness Month takes place, serving as a dedicated time to raise awareness and show support for individuals affected by breast cancer. At Quail Creek, a Tucson-area active adult community, the Needlework Club plays a valuable role in supporting cancer survivors. They focus their efforts on providing knitted knockers and cancer hats to those who have undergone cancer treatment.
Knitted Knockers for Comfort and Support
Club members handcraft Knitted Knockers, special breast prostheses designed for women who have undergone mastectomies or other breast procedures. Traditional prosthetics, which can often be expensive, heavy, sweaty, and uncomfortable. However, Knitted Knockers offer a softer and more comfortable alternative. With a variety of sizes available that can be customized for a perfect fit, they provide support and restore confidence. The best part is that they are provided free of charge to Quail Creek residents.
Cozy Chemo Hats for Cooler Weather
As the weather turns cooler, the Needlework Club also offers soft, stretchy handmade chemo hats. These hats are designed to provide warmth and comfort to cancer survivors undergoing chemotherapy treatment. They are also available free of charge to Quail Creek residents, ensuring that they have the support they need during their cancer journey.
Join the Needlework Club
Newcomers are always welcome! Feel free to drop in and visit the Needlework Club and learn more about how you can get involved to support cancer survivors at Quail Creek. The group meets on Tuesday from 9 a.m. to noon and Friday from 1 to 4 p.m. at Studio 104 in the Creative Arts and Tech Center. Your participation and support would make a meaningful difference in the lives of cancer survivors at Quail Creek.
Contributions by Carolyn Good
About the Creative Arts and Tech Center at Quail Creek
The Needlework Club is just one of the clubs that meet in the Creative Arts and Tech Center. This popular amenity in the 55+ community of Quail Creek accommodates a variety of classes, workshops, and more. Additionally, the center includes numerous display cases that allow residents to showcase their artistic creations and craftsmanship. Contact or visit Quail Creek, located in the friendly town of Sahuarita, to explore the community, tour the models, and learn more about the new homes available today.